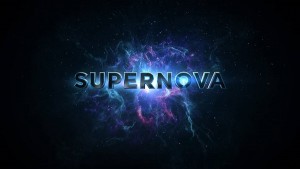 Just like last year, the Latvian representative for the 2016 Eurovision Song Contest will again be selected in the Supernova series of shows. The Latvian broadcaster LVT will broadcast today the first televised show of their national selection for Eurovision.
Singers and songwriters, all of whom have to be Latvian citizens, have been sending their songs up until November 1st. A professional jury has chosen 20 participants who worked with them till the end of January, but all names have been kept secret.
Supernova starts with two documentaries about the preparations of the shows which will include video highlights and special content, such as interviews with the jury members. Live shows will be aired during all of February on Sundays, with the final taking place on 28th of February. The decision on the winner will be jointly taken by a jury and televoting. The name of the lucky chosen participants will be revealed next week, on 31st of January, during the broadcasting of the second special episode.
The professional jury who has chosen the finalists consists of:
Guntars Racs
Intars Busulis
Daumants Kalnins
DJ Rudd
After the first two televised special episodes LTV will broadcast live two heats on 7th and 14th of February 2016, they will each feature ten competing entries from which four will advance to the semi-final from each show. The semi-final will be held on 21st of February and will feature the eight qualifiers from the two heats from which the top four will proceed to the final. The final, will be held on the 28th of February.
Results during the heats and the semi-final shows will be determined by a jury panel and televoting. In the first heats and the semi-final, the songs will first face a public televote where the top two entries will qualify to the next phase.The jury will then select an additional two qualifiers from the remaining entries to proceed in the competition. In the final, public televoting will exclusively determine the Latvian entry to Stockholm.
You can watch the first episode of Supernova at 20.25 CET on the official site of the Latvian broadcaster.
Latvia in the Eurovision Song Contest
Latvia has participated in the Eurovision Song Contest 16 times since making its debut at the contest in 2000, where the group Brainstorm finished third with the song My Star. The country's only Eurovision victory was in 2002, when Marie N won with the song I Wanna, defeating Malta by 12 points. Latvia is the second former Soviet country to win the contest. The 2003 contest was held in the Latvian capital, Riga.
Last year the country qualified for the final for the first time since 2008 with Animata and the song Love Injected. In the final she finished sixth, Latvia's fourth top 10 placement and best result in the contest since 2005.
Below you can watch Animate performing her song in last year's Eurovision Song Contest: