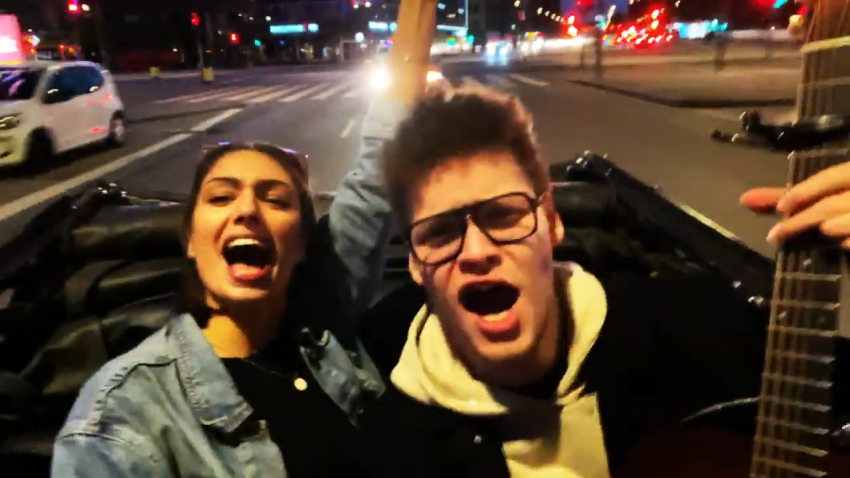 In a convertible car, this year's Danish Eurovision should-have-been participants, Ben & Tan drives around the streets of Copenhagen. The recently recorded video backs up the new single 'Summer Nights' from the Danish duo, who are yet to decide their future together.
While the future for Ben & Tan still remain unsure, a new single from them has just been released. The single is a cover of a Danish song, originally released in 1988. It's Stjernenat (star night) by Johnny Madsen. It was included on Madsen's album Udenfor Sæsonen, which became quite a hit in Denmark. To be honest though, most Danes would not be able to recognise the original song when listening to Ben & Tan's Summer Nights.
The new single with a matching video from Ben & Tan has just been released today, on what should have been the day before the final of the Eurovision Song Contest. Their easy-going pop entry Yes would have stood out for sure. Would they have qualified? We assume so, but will never know.
Summer Nights is a fairly new song. It has been recorded after the breakout of Coronavirus and it's Covid-19 disease, which eventually let to the cancellation of the 2020 Eurovision Song Contest. Marcus Winther-John wrote the English lyrics to the song released by the record company 'The Arrangement'.
It's just a week ago, the video was recorded. Ben & Tan sits at the back of a convertible car that drives around the streets of Copenhagen. Just like Yes with which they won the Danish final – in an empty arena as the Danish government just the day before had advised against larger gatherings, it's an up-tempo pop song.
Summer Nights is perfect for a drive through the city with the window down.

Trine Therkelsen, Creative Assistent at The Arrangement
In the video below, you can watch Ben & Tan's drive through Copenhagen listening to Summer Nights. Below the video, we invite you to check out our previous content regarding this Danish duo, which was put together for the Danish national final.
More Ben & Tan coverage