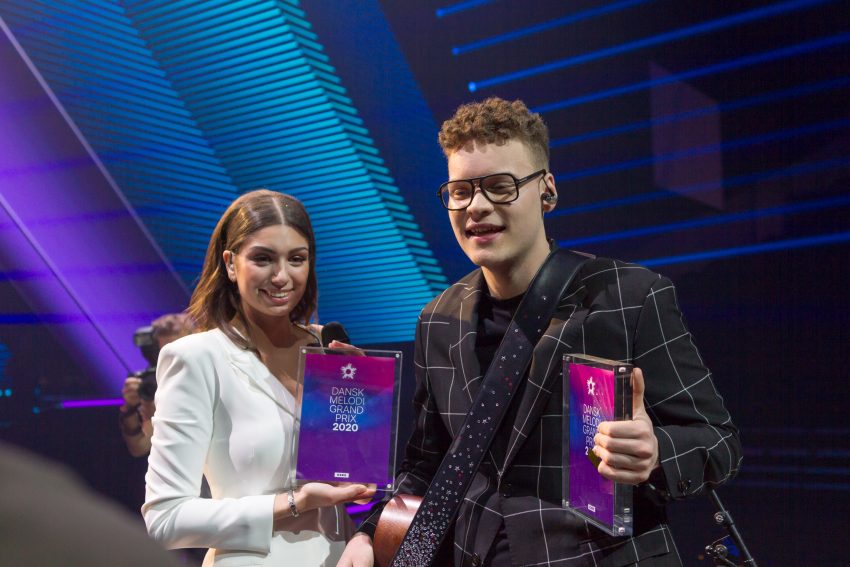 Back in March, Ben & Tan won Dansk Melodi Grand Prix and thus won the ticket to represent Denmark in Eurovision 2020. With the event now cancelled due to the coronavirus pandemic, we look back at the entry and discuss what its chances could have been in Rotterdam.
Shortly before the Danish national selection, it was announced that, due to concerns over the rapid spread of COVID-19, the 2020 edition of Dansk Melodi Grand Prix would take place without a live audience. On the night, a sleek presentation and a catchy tune by Ben & Tan meant that the duo managed to get 61% of the televote during the Superfinal stage of the event.
Yes has since proved to be one of the fairly popular entries for 2020. So, what do we think? Would it have done well, had Eurovision 2020 gone ahead? Here are some of our views at EuroVisionary:
Michael – 'Of all the contestants, I feel most sorry for them as they have proven they can sing live, but didn't get to do it in front of an audience. This is a real Eurovision anthem that I feel the duo would be unable to beat next year, so, as far as Eurovision goes, what a waste of a song. I love it and think this is one of Denmark's best ever.'
Josef – 'I liked Yes since I heard it for the first time in the semi-finals. Duo Ben & Tan was very likeable and the song modern and catchy. In my ranking, Yes has its place in the overall Top 5 and rightfully. I love them even more after I got a greeting especially recorded for me. I will miss them for sure next year.'
Elvir – 'Yes was my second favourite song in this year's Danish national selection. The song reminds me very much of NaviBand and their song Story Of My Life back in 2017. I like the energy in the Danish entry, the mix of pop and folk music and the very catchy chorus. Yes would probably have made it to the final.'
Theo – Yes had been in my top 3 prior to the Dansk Melodi Grand Prix. Listening to the studio version of the songs, my clear favourites were fellow contestants Jasmin Rose feat. RoxorLoops and their entry Human. Had Human worked well live on stage – and, judging by the result, it evidently did not – I think that Denmark would have been more enthusiastically tipped as a potential Eurovision 2020 winner. We are discussing Ben & Tan here though, so, I will go back to them and say that Yes sounds very cute and jolly. I had a ticket for Melodi Grand Prix and would have loved to see the song's winning performance live had the event not taken place without an audience. Ben & Tan did a very good job on the night and gave a sleek performance.'
Charlotte – 'After the Danish final, I found myself in a discussion with a Norwegian fan who didn't understand why Denmark had picked this song as it wasn't the song with the biggest potential to win Eurovision. While I agree with that, I fully understand why it won the Danish final, and tried to argue that the average TV viewer voting do not analyse the Eurovision potential of each song as fans do. He was shocked and unable to understand that. I am unable to understand why he can't relate to that. Maybe he doesn't associate with non fans, I don't know. But anyway, I understand why it won. It's catchy, it's a happy song, which brings a smile to most people's faces when hearing it. No need to analyse too much, sometimes this is all that's needed. Many fans would probably not have voted for it, but, for the average TV viewer around Europe, this would have stood out in a field with many ballads and brought Denmark to the final.'
Alvaro – 'The song has been a grower for me. It is impossible not to have chills when I watched their winning performance. Now, that watching of Ben & Tan performing to an empty room feels like the anticipation of the cancellation of the Eurovision Song Contest altogether. Nevertheless, I think they would have given a great performance and had a catchy song. It would have been a qualifier in my opinion.'
Stay tuned – tomorrow, we will be discussing yet another entry for what would have been Rotterdam 2020!
In the following video, you can revisit Ben & Tan performing Yes at the Dansk Melodi Grand Prix 2020.
This reflection article is based on the author's own personal experience. Views expressed belongs to him or her, and are to be seen as unrelated to EuroVisionary.com.