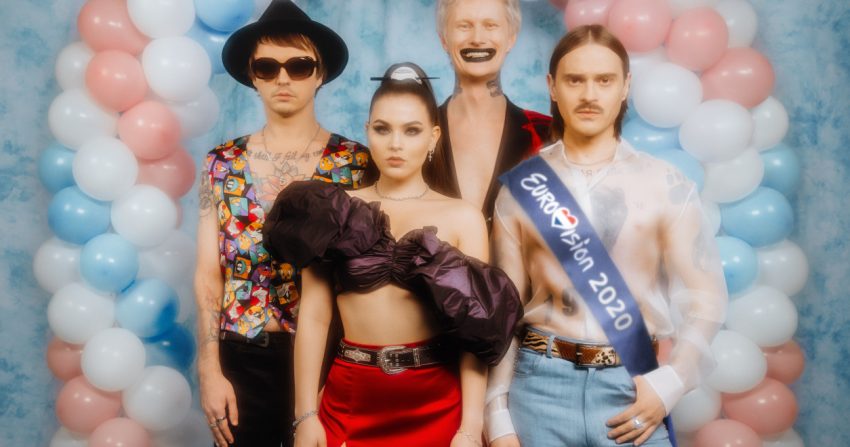 Russia was one of the last countries to announce their act and song for the Eurovision Song Contest 2020. In the end the band Little Big were announced on 2nd March 2020 as the Russian entry, with the song Uno, announced ten days later.
Little Big describe themselves as a Russian rave band from Saint Petersburgh. The four piece band are made up of members, Ilya "Ilich" Prusikin, Sonya Tayurskaya, Anton "Boo" Lissov and Sergey "Gokk" Makarov although the video for their Eurovision entry features three other members. One of them would have had to be dropped for the Eurovision stage.
So far the band have released four albums, With Russia From Love, Funeral Rave and Antipositive Part 1 and 2. On the official Russian chart, the song Uno peaked at number 32.
As soon as the song was announced, it quickly rose to the top of the iTunes charts in Russia, and sent waves all over the world. The bookies had them as fifth favourite to win this year's contest, with a great chance that these odds would have improved even more, after rehearsals.
So what does the team think of Russia's 2020 entry
Charlotte   Listening to a couple of their other songs when they were presented as Russia's participant, I thought I knew what to expect – and was looking forward to it. What I got however was a bad copy of Aqua's Barbie Girl – and I didn't like that at all. The band had the potential to bring something interesting and totally unique to the contest. This wouldn't have been that. Unfortunately.
Theo I agree with Charlotte on this one. Though not sure whether it is a Barbie Girl or Doctor Jones, early Aqua was nevertheless what instantly came to my mind, too. I also expected something better to start with but, having listened to it again just now, it can be (alarmingly?) infectious. In any case, I think that many of the viewers at home would eagerly wait for this one to come on their screen (not sure whether it would be for all the 'right' reasons however).'
William   Unique, interesting and captivating.  This was the most instant song of the year for me.  Little Big are controversial and you can tell even from this somewhat tame entry in comparison to songs like I'm OK and Big Dick.  Russia is known for having dancing bears, little did I know they also had human versions too.  What a fantastic fun piece of music, this would have swept the tele-vote no doubt, yet I still don't think it would have gone all the way.
Michael   When I first heard this song I thought Russia has lost its mind. Tired of sending songs that never quite won I thought they were sending this as a joke entry. I soon changed my mind. I think it is a touch of genius and can't get enough of the song. I bought their first album as I liked Uno so much. Yes this could have potentially won. It would have done well with the fans, and juries recognise a  potential European hit.
Gunec Little Big looked like a joke to me when they were first announced. To be frank, I was not expecting much from them. However, when I first heard Uno I was really surprised. I loved the song. So catchy, funny, modern and up to date. Much better than Sergey's song last year.
Josef From the moment Little Big were announced as Russian representatives, I checked their songs from the past. Some were amazing and some awful so it was a little bit tricky. UNO is a lucky and funny choice. It as a whole package is a well thought project with some hidden Easter eggs. I love the catchiness and the retro vibe around it.
This reflection article is based on the author's own personal experience. Views expressed belongs to him or her, and are to be seen as unrelated to EuroVisionary.com.