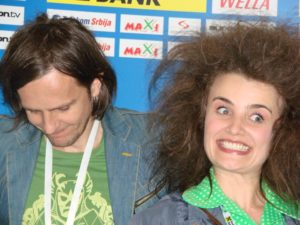 Bosnia and Herzegovina will unfortunately not take part in this year's edition of the Eurovision Song Contest due to serious economic issues within the Bosnian Public National Broadcaster BHRT. However we looked at acts, which, in case of Bosnia and Herzegovina's participation, could have represented the country in Kyiv.
All of the songs below are released after the 1st of September 2016 and as such live up to the rules of the Eurovision Song Contest.
Božo Vrećo feat. Indigo – Pustinja
Božo is a unique singer who takes sevdalinka, the traditional folk song from Bosnia, back to its pure unaccompanied roots. He is an androgynous singer – sometimes performing as a man, sometimes as a woman – which is breaking down deep prejudices. Božo has talked about how sevdah allows him to live as both a man and a woman, and how he sings and writes sevdalinka-songs, that are in male and female voices because they are true to both 'parts of him'. Pustinja (The Desert) is the track from his second solo album Pandora, which was released last year.
Amel Ćurić feat. Emina Jahović Sandal – Kost
Amel is not new to the music scene. In 2003 he was the first winner ever of the Bosnian reality TV-show "OBN Music Talents" and two years ago he won X Factor Adria. In 2006 he released his only studio album up to date titled Urnebes. Emina is one of the biggest names in the music industry in the former Yugoslavia. She was discovered by Dino Merlin (Bosnia and Herzegovina 1999 and 2011), who also wrote the song U la la, which Emina performed in the Bosnian selection for the Eurovision Song Contest in 2002. In 2010 Emina tried to represent Serbia at Eurovision, but she lost to Milan Stanković in the final round of the national selection. In 2013 she was a judge in X Factor Adria. 35 years old Emina is married to one of the leading Turkish pop star Mustafa Sandal.
Elvir Laković Laka – Malokrvna
Laka doesn't need any special introduction. He represented Bosnia and Herzegovina at 2008 Eurovision Song Contest in Belgrade, where he finished 10th in the final with the song Pokušaj. The song Malokrvna, which translated into English means Anaemic, was released in December last year.
Lea Mijatović – Ti Me Jedini Znaš
30 years old Lea lives in Split today, but her roots are Bosnian. She took part in the Bosnian and Herzegovinian national selection for the Eurovision Song Contest two times in the past – in 2003 and in 2005. Both times Lea finished second last. From 2010 to 2016 she was the leading vocal in the Bosnian band "Teška industrija". Last year Lea decided to start her solo career and Ti Me Jedini Znaš (You Are The Only One Who Knows Me) is her first single.
Lukijan Ivanović – Između Redova
Lukijan is 25 years and lives in Banja Luka – the second largest city in Bosnia and Herzegovina after Sarajevo. He became famous after participating in the first season of X Factor Adria, which started broadcasting in late October 2013. Daniel Kajmakoski (FYR Macedonia 2015) and Slavko Kalezić (Montenegro 2017) also took part in this show at the same time. In November last year he released his first album Svoj Sam (I Am My Own), where the track Između Redova (Between The Lines) is also on.
Do you think that any of the songs listed would have secure Bosnia and Herzegovina the advancement to the final of 2017 Eurovision Song Contest if the country was participating?