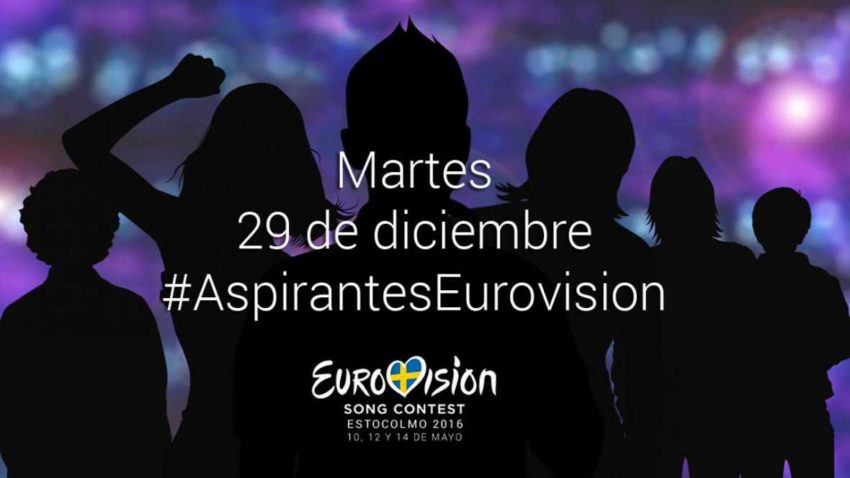 Only three days before New Year, the Spanish national broadcaster TVE decided to reveal the names of the six artists who will be competing for the right to represent Spain at the Eurovision Song Contest 2016 in Stockholm. We bring you closer to the six acts.
Previously, Spanish broadcaster TVE revealed that they are going for a national final next year. They will use the same format as in 2014 when Ruth Lorenzo won the national final with the song Dancing In The Rain and ended 10th in the grand final of the Eurovision Song Contest 2014. Today TVE announced the names of the six artists who will be competing to represent Spain in Stockholm. The participants started being revealed via the RTVE Twitter page and website this morning, with half an hour intervals between each announcement. The songs however will be published on a later date.
The six candidates are:
Xuso Jones is from Murcia in Spain, he has previously worked in Los Angeles and released his debut album in 2013. Xuso's song is composed  by two Swedish composers, Andreas Öhrn and Peter Boström who co-produced Euphoria and Amanecer for previous competitions. He describes his song as 'very fresh, a song that grows, and a song with lots of emotions'. He also has some thoughts on his stage performance, which he says will be very visual and new. Maybe a new Måns Zelmerlöw here?
He is a singer and composer and, as he said, he has written his song by himself. The song is all about happy days and would show Europe the happy characteristics of the Spanish people. The song will have a touch of Spanish folklore, the base of it will be the guitar, and the entire song could be described as a latin song. Salvador has released two albums in Spain, the latest of which was released in April 2015. A strong Spanish flavour here, we can expect.
Maverick is only 19 years old and he said he will be competing in the Spanish national final with a 100% latin song. His song is written by Juan Magán, Darlyn Cuevas 'DCS' and Luiggi Giussepe Olivares. He became famous after his participation in The Voice of Spain 2015. Maverick said that it has been a while since Spain sent a proper latino song to the Eurovision Song Contest and he thinks that it is about time to send one again. Will it be his song?
Maria Isabel  will compete to represent Spain at Eurovision in 2016. Maria rose to prominence in 2004 when she won the Junior Eurovision Song Contest for Spain at the age of just nine years. Her win in 2004 was the last time Spain won a Eurovision event. On the wave of success of her Junior Eurovision win, she released a string of singles and has toured worldwide. Her latest album was released in November of 2015 and now she hopes to take on the Eurovision Song Contest at the age of 20. Maria said that she has wonderful memories of Junior Eurovision and it is the best thing that ever happened in her life. Her dream is to be able to relive all those wonderful moments. Will she make her dream come true this year?
Electric Nana  is an indie artist from Madrid. She composes, produces and arranges all of her own music as well as being a multi-instrumentalist. Her career began in 2007 when she started being a songwriter and producer working behind many Spanish movie soundtracks. She released her debut album in 2015 and is now in the running to represent Spain at the Eurovision Song Contest in Stockholm. Could a musician take part in Eurovision? Nana answered yes! Electric Nana is a huge Eurovision fan who hasn't missed a single contest since she was a child. She says musicians are afraid of going to Eurovision but she has a huge will to participate and her song will get everyone excited.
Barei is the least famous artist in the Spanish line up. Her song, as Barei said, is a modern pop song with an electronic base and a very up-to-date sound. She composes songs in English with humanitarian messages and her music is usually pop. She thinks that Heroes, last year's Eurovision winning song is a universal and international song that can be played on radios all over the world. This is the type of music she is going for as well.
The winner of the Spanish national final will be selected via 50/50 televoting and jury voting. All candidates are young artists from different music styles, each representing a different genre. The 2015 Spanish national final will be aired live on TVE 1.
Spain in the Eurovision Song Contest
Spain has participated in the Eurovision Song Contest 55 times since making its debut in 1961 when they finished ninth. Since 1999, Spain has been one of the 'Big Five', along with France, Germany, Italy and the United Kingdom, which are automatically allowed to participate in the final because they are the five biggest financial contributors to the European Broadcasting Union.
Spain has won the contest twice, first in 1968 with the song La,La, La, sung by Massiel, and again in 1969 when Salomé's Vivo Cantando was involved in a four-way tie with the United Kingdom, France and the Netherlands. The 1969 contest in Madrid is the only time Spain has hosted the event since lots were drawn after 1969's four-way tie and the 1970 contest was hosted by the Netherlands. Spain has also finished second in the contest four times: in 1971, in 1973, in 1979 and, more recently, with Anabel Conde in 1995. The country finished last four times: in 1962, 1965, 1983 and in 1999.
In recent years, Spain has had less success, failing to reach the top 10 in nine of the last eleven contests (2005–2015); the exceptions were Pastora Soler, who was tenth in 2012, and Ruth Lorenzo, who also finished tenth in 2014.
In Vienna, Spain participated in the contest with the song Amanecer, performed by Edurne, who was selected internally by TVE. Despite being one of the favourites, the Spanish song finished in twenty-first place out of 27 competing songs in the Grand Final.
Below you can watch Edurne performing this year's Spanish entry Amanecer: