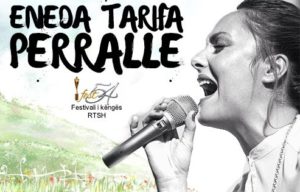 One more year passed by, one more Festivali i Këngës is now history. A month full of preparations for the 54th edition, 3 nights of live music and orchestra, 30 songs, 22 finalists and one winner. By jury voting, Eneda Tarifa with the song Përallë (Fairytale) won the Albanian selection for Eurovision Song Contest 2016.
The songs
1. Sigi Bastri – Engjëll I Lirë
Sigi opens the competition with her ballad song and her powerful voice. She comes from a family of musicians and has participated in both X Factor and The Voice of Albania.
2. Rezarta Smaja & Klodian Kaçani – Dashuri Në Përjetësi
The duo is next with their romantic ballad and their great chemistry. Rezarta has taken part in every Festivali i Këngës since 2012 always finishing 7th, while Klodian almost won the ticket to Copenhagen in 2014 when he finished 2nd.
3. Dilan Reka – Buzëqesh
Dilan sings third with a mid tempo ballad. Just like Sigi, he has been a participant in both X Factor and The Voice of Albania.
4. Adrian Lulgjuraj – Jeto Dhe Ëndërro
Adrian is next with his rock song and rocking spirit. He represented Albania in Malmo 2013 with Bledar Sejko but failed to qualify to the final. However, can he make it to Sweden for a second time?
5. Erga Halilaj – Monolog
Erga shows her strong vocals with this sentimental ballad song. She has been a backing vocalist for both Albanian entries in the Eurovision Song Contest in 2014 and 2015.
6. Evans Rama – Flakë
After a small break, Evans is next with the second rock song of the night. He has participated in previous editions of Festivali i Këngës but has not managed to win the ticket to the Eurovision Song Contest. Will he tonight?
7. Jozefina Simoni – Një Det Me Ty
Jozefina comes up next with one of the many ballads tonight. She participated in last year's edition finishing 12th and is back for another chance.
8. Egert Pano – Mos Ik
Egert is eightth in the running order and presents his jazz-ish/blues ballad with elements typical of Festivali songs over the years. A young girl gives him a bunch of flowers in the end of the song.
9. Genc Tukiçi – Sa Të Dashuroj
Genc is next after a commercial break. One more ballad, but this time with opera-like vocals. He is a French-Albanian pianist and composer and has composed a hymn about Mother Teresa.
10. Kozma Dushi – Një Kafe
Kozma Dushi is singing 10th. He boasts numerous participations in Festivali i Këngës since the Communist Era in Albania but has never managed to represent the country since the contest became linked to Eurovision. His song Një kafe has typical Festivali song elements and takes us back to the glory days of the Festival.
11. Luiz Ejlli – Pa Mbarim
Luiz has chosen to participate with a ballad unlike his winning folk song from the 44th Festivali. This is the third time he is trying to represent Albania in the Eurovision Song Contest since 2006, having come 2nd in Festivali i Këngës 47 with a duet with Julian Pasha (Albania 2010). Could it be third time lucky with this one?
12. Teuta Kurti – Në Sytë E Mi
Luiz Teuta is next . She is an Albanian Kosovar and became famous through the Albanian version of the talent show Idols. Her song is a mid tempo one.
13. Besa Krasniqi – Liroje Zemrën
Besa is singing thirteenth and is a fan favourite to win. The song Liroje Zemrën is a gentle ballad with some modern sounds. Can she make it to Stockholm as the polls and fan votes indicate?
14. Nilsa Hysi – Asaj
Nilsa comes up after the fans' favourite. She participated in the 4th edition of The Voice of Albania making it to the knock out round. Her song Asaj is a pop track with some rock complimenting her musical style.
15. Kristi Popa – Ajo Çfarë Ndjej
Kristi is a singer and composer and has graduated from the Artistic High School of Tirana. His song is another ballad this night.
16. Flaka Krelani – S'je Për Mu
Flaka is from Kosovo and is considered as one of the favourites to win tonight. Her vocals are considered flawless and she has participated in previous editions of Festivali i Këngës, almost making it to Belgrade in 2008. Her song is kind of weird and has an indie feeling about it and her vocals are flawless as always.
17. Enxhi Nasufi – Infinit
Enxhi comes with a modern pop song mixed with 80's disco sounds and quite strong vocals, breaking the ballad monotony of the night. She has been singing since a very young age and has participated in X Factor Albania and The Voice of Albania.
18. Lindi Islami – Për Një Mrekulli
Lindi is one of the many participants this night that have been in a talent show. He has been in The Voice of Albania and is a guitar player. He  has participated in Festivali i Këngës 52 with his girlfriend, Venera Lumani, finishing 4th. Për Një Mrekulli is a romantic ballad and he is accompanied by his guitar.
19. Florent Abrashi – Të Ndjek Çdo Hap
Florent is from Kosovo and won The Voice of Albania 3. He brings one more rock song this year that fits his musical style and his voice, which is considered as that of a rock singer.
20. Eneda Tarifa – Përrallë
Eneda is considered by the Albanian media and public as the hottest favourite to win tonight. Her fame rose when she won Top Fest 7 in 2010. Will she make it to Stockholm though? Her song, just like Flaka's, has an unusual sound to it as well as an indie feeling with some rock elements.
21. Renis Gjoka – Ato Që S'ti Them Dot
Renis is a known name in the Albanian rock music scene and participated in Festivali i Këngës 47 with the band Burn finishing 6th. As expected, he is back this year with a rock song and his rock voice.
22. Aslaidon Zaimaj – Merrmë Që Sot
Aslaidon closes the competition with his energetic song. He is the winner of The Voice of Albania 4 and has participated in Top Fest and Kënga Magjike, which are Festivali i Këngës' sister music shows. He is also one of the favourites to win. Will he?
The show
Festivali i Këngës kicked off at 21:00 CET at Pallati i Kongreseve with Pandi Laço and Blerta Tafani hosting the 54th edition of the long running show as a duo after Gresa Pallaska's withdrawal from the show a week ago. The show opened with a short rock medley and  the hosts presenting the first artist and song, thus starting the competition straight away. Throughout the show, various personas from the artistic scene of Albania were invited on stage to give a speech or for some comic relief. After the 22nd and last song was presented, the hosts presented the jury members.
After a short commercial break, the Artistic Director Elton Deda sang a duet with one of the legends of the Albanian music scene, Aleksander Gjoka . Redon Makashi, another big name of the Albanian music scene, was invited later on stage to sing. The three of them already participated in Festivali i Këngës as a trio in 1996 with the song Të Pranoj Si Je (I Accept You As You Are) and sang it live at the Festivali stage after almost 20 years, bringing back memories of 90's glories.
The second interval act of the night consists of three experienced musicians singing classic Albanian songs made during the Communist era. Some more time left before the big announcement and, on stage, we find Shkëlzen Doli, who is a successful  violinist in the Vienna Philharmonic Orchestra.
The voting procedure
A Jury consisting of 7 members hold 100% of the voting power. The jurors are Elidon Haliti, Francesk Radi, Jehona Sopi, Pirro Cako, Olta Boka, Ilirian Zhupa, Alban Nimani. Among them, we see Olta Boka who represented Albania in the Eurovision Song Contest 2008 in Belgrade, Serbia. The voting this year was different than in previous years. Instead of announcing the results the Eurovision way, the hosts presented the top 10 starting by the 10th place to the 1st one by one, adding to the suspense. However, the points each song gathered remains a mystery as they were not shown on screen.
The top 3 consists of:
Eneda Tarifa as the winner ,Aslaidon Zaimaj as the runner-up and Flaka Krelani coming 3rd.
Albania in the Eurovision Song Contest
Albania made its debut in 2004 with Anjeza Shahini and the song The Image Of You, making a great start with a 7th place. The country's best result came in 2012 with Rona Nishliu and the song Suus gathering 156 points and finishing 5th.
As mentioned above, this year Albania will be represented by Eneda Tarifa with the song Përallë (Fairytale). Check out her song in the video below.
In my view

The song is quite nice however it is a risky choice as it is not a mainstream track and may not be liked by everyone. I hope they keep this in Albanian and do not change it in English as this might have the same negative effect as was the case with Hersi's song in 2014.

The opinion expressed in "In my view" are those of the author and are not necessarily the one of EuroVisionary.com.