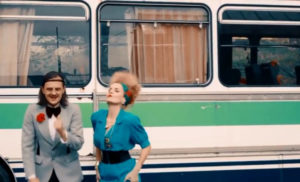 Unfortunately Bosnia and Herzegovina won't participate in this year's Eurovision Song Contest due to financial difficulties with the broadcaster, which almost shut down in recent years as a result of large levels of debt. We take a look at six songs, which however could have represented the country.
All of the songs listed below are released after the 1st of September 2017, and as such live up to the rules of the Eurovision Song Contest. We sincerely hope to see Bosnia and Herzegovina return to the contest very soon. 
Ilma Karahmet – Zaledi Grijeh 
Ilma Karahmet is a big upcoming star on the Bosnian music scene. She became famous back in 2013 when she took part in the first season of X Factor Adria – the Serbian version of The X Factor franchise. At that time she was only 13 years old. Zaledi Grijeh is Ilma's third single after she previously released Sjeti Se (2014) and Ne Zovi Me Tugo (2017). 
Laka – Lizalo
Laka needs no introduction. Back in 2008 he represented Bosnia and Herzegovina at the Eurovision Song Contest in Belgrade and finished 10th in the big final. In the following years, he released his second studio album Stvorenje (2010) and a number of singles such as Poželjenje, Mačko, Gasovi and Malokrvna. Laka still performs together with his sister Mirela
Božo Vrećo feat. Vasil Hadžimanov – Ko Li Noćas Miluje Ti Kosu? 
Božo is a unique singer who is credited for the revival of sevdalinka – a traditional genre of folk music from Bosnia and Herzegovina. He is an androgynous singer – sometimes performing as a man, sometimes as a woman – which is breaking down deep prejudices. Božo hopes that he through his musical performances also can be a voice for LGBT rights in the Balkans.
Letu štuke – Supermarket 
Letu štuke is a rock-punk band which was formed in 1986 in Sarajevo. The lead vocalist and guitarist in the band is Dino Šaran, who composed the song Thunder And Lightning (Munja i grom) that represented Bosnia and Herzegovina at the 2010 Eurovision Song Contest in Oslo. 
Emina Tufo – Zadnji Zagrljaj 
Emina is 23 years-old. She reached fame back in 2012 as she made the final of the Bosnian talent show Zvijezda možeš biti ti (You Can Be a Star). Tufo was one of the favourites to win the Serbian talent show Zvezde Granda (Grand's Stars) three years later, in 2015, but the singer surprisingly chose to leave the contest due to disagreements with management of Grand record label regarding the contract issues.
Armin Muzaferija – Biću Tu
Armin started his music career in 2000. He has participated in many music festivals in Bosnia and Herzegovina as well as in Croatia, where he accomplished some remarkable results. In 2007 Armin went to the University of Cambridge in order to improve his English. He has recorded two studio albums – Još te volim (2009) and Na srcu potpisan (2015). Recently he told to Bosnian TV-station N1 that he would be honoured to represent his country in the Eurovision Song Contest one day.
Which of these songs do you think could have secured Bosnia and Herzegovina the top result in case of the Balkan country's participation in Lisbon? Please vote for your favourite in the poll below: