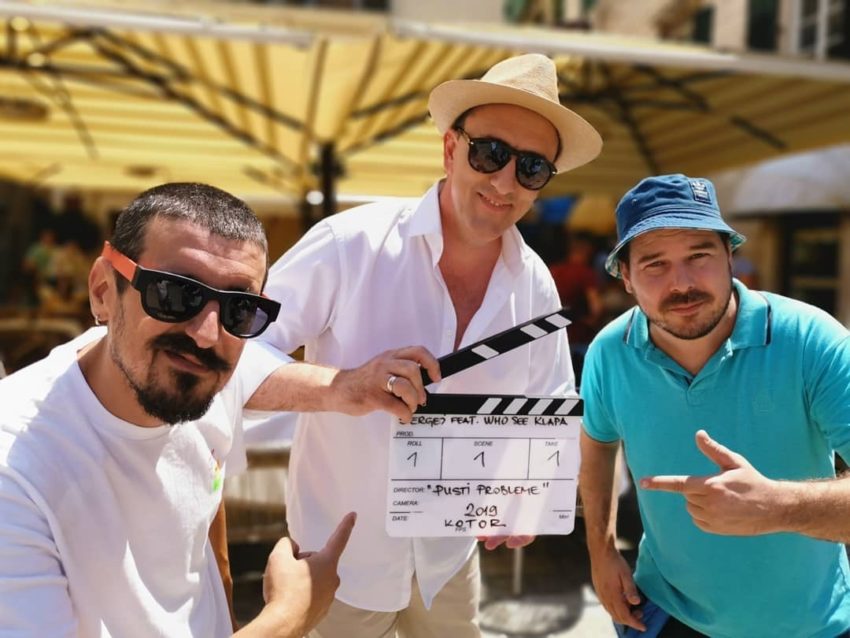 Two former Montenegrin Eurovision representatives, Sergej Ćetković and Who See, have collaborated on a new single "Pusti Probleme". The message of the song, that was released few days ago, is that we should slow down, enjoy life and forget about everyday problems for a moment.
Sergej Ćetković is the first artist ever, who managed to qualify Montenegro for the Eurovision final. It happened back in 2014 in Copenhagen, where his entry Moj Svijet finished 19th. Recently, he launched singles Ako Te Zaboravim (If I Forget You) in 2018 and Ljubav (Love) in 2019.
The hip-hop duo Who See represented Montenegro at 2013 Eurovision Song Contest in Malmö, Sweden with the song Igranka. Back then, they achieved a 12th place in the first semi-final. Since Eurovision, Who See published two albums: Nemam Ti Kad (I Don't Have Time) in 2014 and Pamidore (Tomatoes) in 2017.
Pusti Probleme, which translates to "Forget Problems", is a very different type of song compared to Sergej's previous work. It is a combination of pop and hip-hop music, but still with the Mediterian vibes which are characteristic for his music. Pusti Probleme is  funny, danceable and catchy summer track, full of positive energy, which correspond well to the message of the song telling us to slow down, forget about everyday problems and enjoy life.
The message of this song is that we for a moment have to stop this quick pace of living, step back and think about priorities in our life. We need, as much as possible, devote time to ourselves and people we love, forget all problems and focus on the things that make as feel good. We should surround ourselves with the right people, enjoy life, slow down and use every moment on something nice, something that makes us happy, although it is just an unforgettable day by the sea together with friends and family.

It doesn't mean that all the problems will disappear, but we have to find the balance and maintain optimism, the positive way of thinking, laughter and always look on the bright side of life. We need to believe that everything will be good. We should not stress about the things we cannot change as we may not notice the important things in our life. Often it can be healthy to say: "Let it be!", pack your suitcase, turn off the phone and dedicate some time to yourself and the people you care about.
Sergej Ćetković, composed the music for his new song, while Mario Đorđević Noyz and Dejan Dedović Dedduh from Who See helped him writing the lyrics. They were all very excited about their cooperation and extremely satisfied with the outcome as well. Sergej and Who See believe that their new song will make people wanna dance and feel happy.
In the video below, you can listen to Pusti Probleme