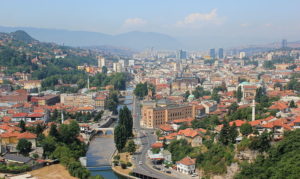 How did the Sarajevo Calling film project come together? In the second part of our exclusive two part series about making the Bosnian and Herzegovinian 1993 Eurovision entry, Sva Bol Svijeta, into a film, you can read more about the background and the work on the film.
We recommend that you read part one in our series of articles about this interesting film project before continuing with this part two. If you have done so, please enjoy this second part.
The film scenarist Jonathan Ellen started researching and writing the story in 2008. In 2010 he traveled to Louisville Kentucky (United States), where Fazla has been living and working since 1996. Ellen interviewed Fazla for three days. Ellen told us, that he and his team met Fazla on several occasions subsequently. They have also been to Sarajevo many times and interviewed dozens of Bosnians including people involved in the production of the song Sva bol svijeta, people from BHRT (The Bosnian and Herzegovinian Radio and Television) and members of Bosnia and Herzegovina's wartime government including Ejup Ganić. Ellen explaines that a new writer came on board last year. His name Viko Nikci, and he is from Kosovo originally. Nikci had much success commercially with his own projects in Ireland and the United States.
About three years ago the project was taken on by an Irish production company, Vico Films, and is currently in development with The Irish Film Board. Vico Films is one of Ireland's up and coming independent production companies. It was established in 2003 with the aim of producing innovative and critically acclaimed films for the world market. The company's films have been accepted into over 100 film festivals around the world and have won 14 awards including at the Venice Film Festival, LA Short Film Festival and the BBC New Talent Awards, to name a few.
Cormac Fox, who established Vico Films, is producer on "Sarajevo Calling". About the whole project he says:
"I was instantly excited by the project when Jonathan approached me. As an Irishman, we hold Eurovision very close to our hearts and we understand the significance of the show to a nation. Fazla's story and Jonathan's script is a unique blend of the horrors of war and the seeming innocence of light entertainment. The years of research and work behind the script pay testament to someone who cares greatly for the subject on which he writes. We expect this story will have a broad appeal. It is, as Ejup Ganić said, a story which needs to be told."
At this stage the team behind the project is unable to confirm actors or a director, but they want the film to have as broad an appeal as possible so it reflects Eurovision's global appeal. Equally the film makers want to remind people of a conflict (the Bosnian War) which Europe allowed to happen and which the West has, to a degree, wiped from its collective conscience.
In addition to this you can say that the story about Bosnia and Herzegovina's participation in the Eurovision Song Contest in 1993 actualizes the purpose of the contest. For the most people Eurovision is all about partying and having fun, but this story shows that for some people it is a matter of life and death when trying to promote and to confirm their country's existence especially in difficult times.
The film will be shot in the Balkans and Ireland probably in the spring next year. The release date still remains unknown at this moment. "Sarajevo Calling" is going to be the first film ever made, which is related to the Eurovision Song Contest.