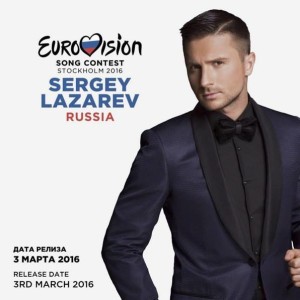 The Russian entry for the Eurovision Song Contest 2016 will be officially presented on the 3rd of March, Sergey Lazarev revealed through his official Instagram account. He was internally selected to represent his country for the contest in Stockholm in May.
As it was previously announced, Sergey Lazarev will wave the Russian flag in Stockholm this May. His song was co-written by Philip Kirkorov and Dimitris Kontopoulos, both well known in the Eurovision community for their previous entries (Belarus 2007, Ukraine 2008, Greece 2009, Azerbaijan 2013, Russia 2014).
Sergey Lazarev has been selected via an internal selection by Russian broadcaster RTR to represent Russia in the upcoming Eurovision Song Contest in Sweden.The Russian superstar confirmed via his official Instagram account that the premiere date of his Eurovision entry will be March 3rd.
Russia in the Eurovision Song Contest
Russia has participated in the Eurovision Song Contest 19 times since their debut in 1994 and has participated every year since 2000. Russia won the 2008 contest with Dima Bilan performing the song Believe. The country has also finished second in the contest four times: with Alsou in 2000, Dima Bilan in 2006, Buranovskiye Babushki in 2012, and Polina Gagarina in 2015. As of 2015, Russia, along with Sweden, holds the record for the most top five finishes in the 21st Century, with a total of eight each. Russia, along with Romania and Greece, have also never missed a final since the introduction of the semi-finals in 2004.
Below you can watch Polina Gagarina performing her 2015 entry, A Million Voices, on the Eurovision stage of Austria's Wiener Stadthalle.