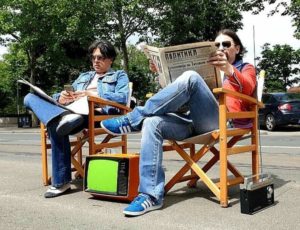 A couple of days ago, the Bosnian and Herzegovinian rock band Regina, whose song "Bistra voda" finished 9th at 2009 Eurovision Song Contest in Moscow, released a brand new video for their song "Ti Si Mi Tu". It is a dark and melancholic song, where love is the answer for everyday's challanges.
Ti Si Mi Tu which translates to You Are Here in English is a song from Regina's latest album from 2017. Since participating in the contest 10 years ago, Regina launched three albums: Vrijeme Je (It's Time) in 2009, Kad Poludimo (When We Go Crazy) in 2012 and U Srcu (In The Heart) 2017. In August 2016 the band lost their bassist Denis Čabrić, who died of a heart attack on holiday in Croatia with his family. He was 49 years old.
Ti Si Mi Tu describes a meaningless, absurd and fake everyday, where everybody is praying and hoping for better days to come. In the meantime, love – in this case love to a woman – is seen as light at the end of the tunnel.
The video for the song, which was filmed in Serbia's capital Belgrade, is made in a retro style. It's supposed to bring us back to the 1970's. One of the co-founders of Regina, guitarist and songwriter, Aleksandar Čović, explained to the Bosnian newspaper Avaz, why they decided to make a video for exactly Ti Si Mi Tu:
We made a video for a song, which lately was mostly liked by our fans and our followers. It is a love song with some "deep" lyrics which inspire you to make a serious storytelling through a video. Many people wrote to us, that this is their favorite song. That's why we decided to adopt exactly this song for the screen. I believe that we made a good choice. The story in the video is placed in the 1970's. The video is made in a retro style and reminds of Quentin Tarantino's movies.
Aleksandar Čović
Below you can watch Regina's latest video: