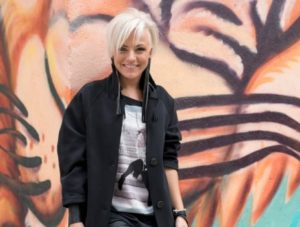 Poli Genova will be a judge on The Voice Bulgaria in the next series which is due to air in 2017. She is the next in a long line of Eurovision stars to join The Voice franchise across Europe. This will be Genova's second time as a judge after her stint on The X-Factor Bulgaria in 2011.
Poli Genova has been confirmed as a new judge on Гласът на България (The voice of Bulgaria). She will join fellow new judge Vladimir Ampov who is also known as Grafa (The count) and two other judges. The new series is due to air in 2017.
Another of the most beloved and most successful music stars in Bulgaria – singer Poli Genova, will sit on the coaching chair in the fourth season of the most anticipated show in 2017 on bTV –

"The Voice of Bulgaria"  BTV – Bulgarian Broadcaster.
Genova is no stranger to being a judge. In 2011 she was a judge on the Bulgarian X-Factor where she mentored the groups. This was her first and only season in the show.
Poli has represented her native country of Bulgaria twice in the Eurovision Song Contest. The first time was in 2011 where she failed to earn a place in to the grand final with her song Na Inat (In spite). Earlier this year, she represented her country again. Her song If Love Was A Crime was popular amongst fans and the public alike, earning her a placement as 4th in the grand final. This made Poli the fist Bulgarian participant to reach the final in nine years.
She is set to perform this weekend as the internal act in the Junior Eurovision song contest in Valetta, Malta.
Eurovision stars as Voice Judges
Poli is not the first Eurovision participant to be a judge on the Bulgarian version of the talent show. Miroslav Kostadinov who represented Bulgaria in the Eurovision song contest 2010 with the song Angel Si Ti (You are an angel). Better known as Miro, he has been a judge on The Voice Bulgaria since it's birth in 2011.
Miro came in 15th position in the semi final and therefore did not qualify for the grand final. In 2010 Bulgaria selected their artist internally, Poli was voted in second place with 7 points
Mariana Popova was a judge on The Voice Bulgaria in 2011. She represented Bulgaria in 2006 in Greece with song Let Me Cry. She finished in 17th position with 36 points, and as well as Miro did not qualify for the final.
In the rest of Europe, Jamala who won this years contest for Ukraine has been confirmed as a judge on the show in Ukraine. 2005 winner Helena Paparizou has joined the judging panel in the Greek Voice edition along with double Eurovision participant Sakis Rouvas.
You can see below why Poli has become such a popular singer in Bulgaria by watching her performance in Stockholm earlier this year.