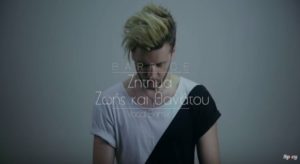 Barrice is a young Greek singer (of Russian origin) who became famous through his participation in the Greek final this year with the song Ela (Come). Despite the fact he didn't win the ticket to go to Vienna, he gained a lot of fans and his latest single, Zitima Zois kai Thanatou (Matter of Life and Death), became a big success.
Barrice continues to impress with his voice and vocal remixes. We still remember the great remix of Eurovision hits he did, dedicated to all eurofans, before the Greek National Final.
This time he transforms his song Zitima Zois kai Thanatou, which was released a few months ago with music and lyrics by himself, managing to gain a top place in the charts.
The music accompanying the verses is performed and produced incorporating natural means such as beatbox, hand clapping, hissing and vocal simulations, and, when combined with technology, creates a perfect melody. The result puts the listener in a magical journey of music and harmony.
Enjoy!