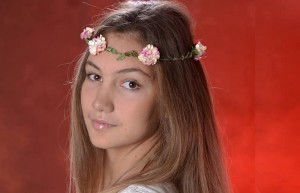 Later than expected, RTCG, the Montenegrin Broadcaster, has revealed the entry that Jana Mirković will be performing in Sofia. The song is called Oluja (Storm) and the video was shot at several locations in the country.
The official song and video presentation was held yesterday during a press conference and cocktail event in Podgorica, despite RTCG having announced earlier in the week that they would present their song on Friday. The video was recently shot at several locations in Budva, a coastal town, and in Njegusi, a smaller village which is best known as the birthplace of the Petrovic dynasty which has plenty of Montenegrin tradition.
The Petrović-Njegoš family ruled Montenegro from 1696 to 1918, though officially deposed in 1921. Montenegro had enjoyed de facto independence from the Ottoman Empire from 1711 but only received formal international recognition as an independent principality in 1878. After many years in exile, the Petrovic ex royal family returned to Montenegro in 2006 to support the Montenegrin independence movement that went on to achieve full sovereignty for the Republic of Montenegro in a 2006 referendum. In 2011, Montenegro recognized an official role for the Royal House of Petrović-Njegoš in Montenegro: to promote Montenegrin identity, culture and traditions through cultural, humanitarian and other non-political activities, which has been interpreted as a "creeping restoration" of the monarchy.
This what Jana said after the presentation:
It was very interesting for me during the shoot, but we didn't have much time for it. Actually we needed to move our shooting days because of the rainy weather. We needed sun so we could have some outdoor scenes! The people behind this video are from television 777, who organized it all. Preparations are going well, I am working hard on my choreography and song so I hope you will be proud of my performance in Sofia. I am thankful to the Lottery of Montenegro (Lutriji Crne Gore) and their organisation which have helped me a lot. This is Junior Eurovision, but people need to be more aware that we as children are also promoters of our countries on this important European event
Jana Mirković is 15 years old and was internally selected to represent Montenegro at Junior Eurovision 2015 which is set to take place on November 21 in Sofia, Bulgaria.  Her song Oluja composed by Mirsad Serhatlić, Boban Novović (lyrics) and arranged by Vladimir Graić, composer of some Serbian Eurovision entries like Molitva (2007) and this year's Beauty Never Lies performed by Bojana Stamenov. Milica Cerovic will be in charge of the choreography while Ivana Murišić will design Jana's costume.
Montenegro in the Junior Eurovision Song Contest
This will be the 2nd Montenegrin entry in the contest. Last year in Malta, Montenegro participated for the first time at the Junior Eurovision.The country was represented by a duet. Masa & Lejla with their song Budi dijete na jedan dan came 14th out of 16 entries with 24 points.
Below you can watch Oluja, the song that Jana will sing for Montenegro in Sofia: