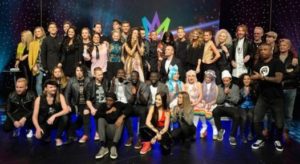 Only three days left unitl the first semi-final of this year's Melodifestivalen! Throughout the day, SVT will be releasing short video snippets from the rehearsals. Seven acts will compete in Gothenburg but only two of them will take a golden ticket for the Grand Final, to take place on 12th March in Stockholm.
The first semi-final of the most popular national selection across Europe, Melodifestivalen, kicks off on Saturday from Gothenburg's Scandinavium. Seven acts will compete for the two direct tickets for the final as well as the two places in the Andra Chansen round (where they will hope to win one of the extra tickets for the Melodifestivalen final). Gina Dirawi and Petra Mede will host the first heat. Throughout the day, SVT will be releasing short videos from today's rehearsals:
Samir &Victor – Bada Nakna
Pernilla Andersson – Mitt Guld
Mimi Werner – Ain't No Good
Anna Book – Himmel för två
Robin Bengtsson – Constellation Price
Sweden in the Eurovision Song Contest
Sweden has participated in the contest 57 times since making its debut in 1958, missing only three contests since then (1964, 1970, 1976). Since 1959, the Swedish entry has been chosen through an annual televised competition, known since 1967 as Melodifestivalen. Sweden has a total of six victories in the contest, right behind Ireland, which has seven wins. Sweden is also the contest's most successful country of the 21st century, with two wins from eight top five results. In total, Sweden has achieved 22 top five results in the contest.
In 2015, after Måns Zelmerlöw's victory in Melodifestivalen with his song Heroes, the singer went on to represent Sweden in the Eurovision Song Contest in Vienna. Måns Zelmerlöw won the contest with 365 points.
Sweden is the only country to have hosted the event in five different decades, three times in Stockholm (1975, 2000, and 2016), twice in Malmö (1992 and 2013) and once in Gothenburg (1985).
Below you can watch Måns Zelmerlöw performing the winning song of the Eurovision Song Contest 2015 for Sweden: