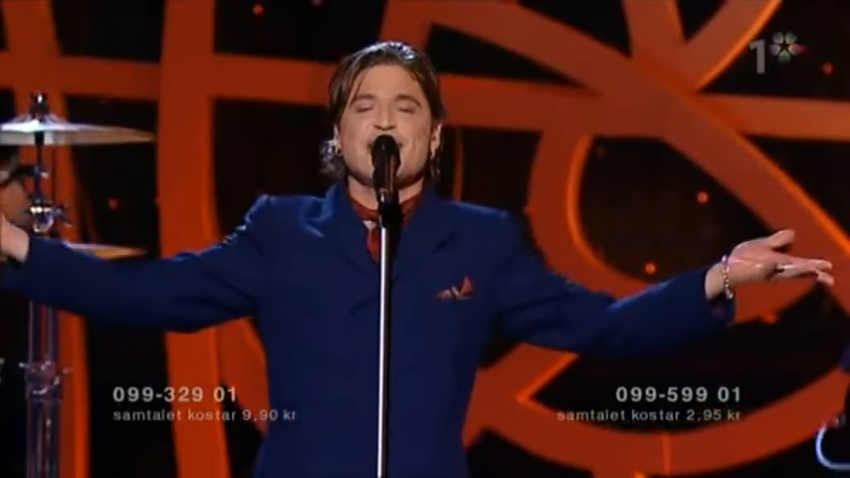 Did the jury or the public know best? The jury wanted to send Andreas Johnson to Eurovision with the song 'Sing For Me'. The public however chose former Eurovision winner Carola. She scored a 5th place at the Eurovision Song Contest in Athens. But what if, the jury have had their way in the Swedish selection?
If the jury had decided the outcome of the Swedish national selection Melodifestivalen in 2016, Andreas Johnson would have represented the country at Eurovision. But when the points from the public were added, he only finished 3rd in the combined result.
| | | | |
| --- | --- | --- | --- |
| Act | Jury points | Public points | Combined result |
| Andreas Johnson | 112 | 88 | 200 = 3rd place |
| Carola | 102 | 132 | 234 = 1st place |
| BWO | 92 | 110 | 202 = 2nd place |
The Swedish final in 2006 was met with controversy after the result. Not everyone thought Carola had won fair. People complained about voting issues with both Andreas Johnson and BWO. It wasn't well received either that broadcaster SVT in the final used a clip from the semi-final for the re-cap of Carola's entry. The song was a bit different, and probably also better, in the semi-final due to her having throat issues for the final.
Sing For Me – opinions from fans
In order to find out what Eurovision fans today think of this song from the 2006 Swedish national final, we asked our Eurovision Fan Panel. It includes team members as well as fans from all over the world.
🇩🇰 Charlotte J. – This was my favourite in the Swedish 2006 selection. BWO was my second – and Carola? She was among the worst in that rather strong national final. Sing For Me is extremely catchy, and 14 years later, it's still a song I listen to. Johnson is charismatic, he is a good performer and I am still sad Sweden never picked him for Eurovision. This one would have been a good choice, in my opinion. It's a good mix of the 1960's Beatles meet the 1990's boyband sound. I love it ♥️. Surely Lise Cabble and Jakob Glæsner had the same inspiration source when they wrote the Danish 2011 entry New Tomorrow for A Friend In London? Sing For Me became a massive radio hit in Denmark. At least here in North Jutland where it was played like 10 times a day for about six months after the Swedish final. There was no escape!
🇳🇱 Jacques H. – Back in 2006, it apparently was impossible to beat Carola. But was Invincible really the best song at Melodifestivalen? Not in my honest opinion. I find Invincible a terrible Swedish schlager gay song, where Andreas Johnson's Sing For Me is much better with a more mature Britpop sound. It gives me heaps of energy and joy, more than the cheap antics of Carola's attempt to win Eurovision again. With the first tones of Sing For Me I heard an uplifiting mixture of Robbie Williams and Blur. What a missed opportunity for Sweden.
🇸🇪 Jill R. – Sing For Me was definitely one of the best songs in Melodifestivalen 2006. Andreas sings very well and is a real entertainer. The song has a nice Beatles-vibe and always makes me feel happy. I can´t hear it without singing along. But I doubt that Andreas would have gotten a better placement in Eurovision than Carola did. Her voice and professionalism is outstanding (even though I don´t agree with her beliefs). Andreas wasn't´t my favourite that year, but neither was Carola. Personally I rooted for BWO or Poodles, but I don´t think any of them could have placed higher than Carola did.
🇵🇱 🇯🇪 Pawel J. – I do like it a lot. It's one of those songs encouraging everyone to be happy and never give up on anything that is important in life. There's definitely a very positive message in it – I guess maybe that helped Andreas Johnson to be very successful with on the Swedish charts. But in 2006 no one was able to stop Carola from winning and going to Athens.
"Don't care what they say, just let the music play"- we should be always be true to ourselves.
🇸🇪 Tommy E. – The first of many appearances of Andreas Johnson in Melodifestivalen. Before that he was known in Sweden (and internationally) for the song Glorious. This is an anthemic song with a positive vibe. And the chorus has a striking resemblance to the song New Tomorrow that represented Denmark in 2011. All in all – I like this song quite a lot and can see why it was top 3 at Melodifestivalen.
🇬🇧 Ashleigh K. – Carola was a bit of a safe entry for Sweden in 2006. There was nothing unique or interesting about her song Invincible – even the title has been overdone. I've no idea how it scored as high as 5th place.
Andreas Johnson had a song which had a bit more substance. But I can't really say I enjoyed listening to that one either. Clearly Sweden was not for me in 2006.
🇳🇴 Stine F. – I had not heard Sing For Me before this week, but still it sounded extremely familiar at the first listen. Then it hit me! The song has so many similarities with Denmark's entry from 2011, A Friend In London with New Tomorrow. I think both songs are quite ok, but not candidates for the memory wall of fame… Sing For Me kind of has the vibe of a revival meeting…
🇭🇺 Vangelis M. – This song is not bad and is also catchy. I think it would do great in the contest at that time period it was supposed to participate 🙂
🇨🇴 🇫🇮 Alvaro S. – The lyrics of this entry from Andreas Johnson are catchy and joyful. In fact, I am surprised when I immediately noticed the similarities between the sound in the chorus with Denmark's New Tomorrow from 2011. That looks suspicious. Although this is an enjoyable song I think that Sweden made the right choice sending their Eurovision diva, Carola to the show. Although Invincible did not as good as the fans expected, it is still well remembered.
🇸🇪 Sara T. – This was one of my favourite songs in Melodifestivalen 2006 (but my personal winner was Magnus Carlsson). I remember how my whole family liked this song, both kids and parents. I'm not sure we would have done better in Eurovision if this song had won – I mean, it's hard to beat Carola! I'm not a huge fan of hers and I particularly dislike Invincible, which in my opinion is too bland and predictable. However, I was very happy back in 2006 that Carola saved our reputation after that dreadful song from 2005, so I guess that's something. All in all, Sing For Me is much better than Invincible, but I still believe we made the right choice sending Carola to Eurovision.
🇬🇧 Michael O. – A catchy anthem of a song, just right in it's time with its Brit Pop feel, this was Andreas best chance of getting to Eurovision. However although a fave with the juries, the public probably remembered the low placing by Martin the year before and wanted to send their queen instead. A lost chance for Andreas who probably won't see the Eurovision stage now, and even if he had made it to Greece, the public still would have wanted the Finnish monsters.
🇨🇿 Josef S. – Sing For Me is a fun song and that's good. If this one would go to Eurovision, it would have found its audience, but very realistically could not end better than Carola. Btw. am I the only one who hears similarities between Sing For Me and New Tomorrow from A Friend In London from Denmark?
(Edt. To answer Josef's question: As it clear from the different contributions to this article, he wasn't the only one. Opinions are sent individually without seeing the answers from others).
Enjoy Andreas Johnson's performance from the 2006 Melodifestivalen in the embedded video. Below the video, you can read more about him.
Andreas Johnson – a mini biography
Born in March 1970, Andreas Johnson has passed the 50 years, but is still going strong. He grew up being familiar with music, and life on the road with both his parents being touring jazz musicians.
His own music career kicked off as lead singer in the group Planet Waves. They released one album after which they split, and Johnson went solo. He released his debut album, Cottonfish Tales, in 1997. Two years later, in 1999, he got an international hit with the self-written song Glorious. That song reached the charts in Norway, Germany, Belgium, the Netherlands, France, Italy, Switzerland, United Kingdom, Ireland, US, New Zealand and of course, his native Sweden.
Over the years, Andreas Johnson has participated seven times in the Swedish national selection, Melodifestivalen, but unfortunately never made it to Eurovision.
Seven Melodifestivalen entries by Andreas Johnson
2006: Sing For Me reached the final and finished 3rd.
2007: A Little Bit Of Love reached the final and finished 2nd.
2008: One Love (a duet with former Eurovision winner Carola) reached the second chance round.
2010: We Can Work It Out reached the final and finished 6th.
2012: Lovelight reached the second chance round.
2015: Living To Die didn't continue from the semi-final stage
2019: Army Of Us reached the second chance round.