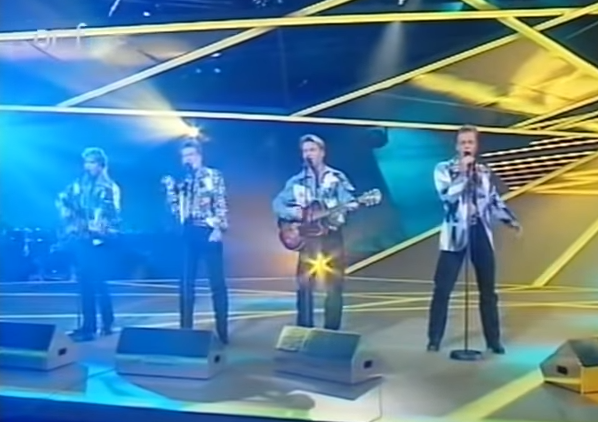 It might be 27 years ago, and the song finished outside Top 5, but the Swedish 1993 entry is still one worth to remember. Today, the song 'Eloise' is still loved by many fans. For some of them, this is one of Sweden's best Eurovision entries.
On the 5th of March 1993 in Sweden's second largest city Gothenburg, Arvingarna took the trophy in the Swedish national final Melodifestivalen. 10 acts competed in the final where the dansband left Nick Borgen and his We Are All The Winners to second place.
At the Eurovision Song Contest, Sweden finished in 7th place. They didn't achieve any sets of 12 points, but three countries did award them with the second highest 10 points. These countries were Austria, Belgium and Israel. From neighbouring Denmark they received 7 points whereas Norway didn't have any points left for Sweden that year.
Eloise is written by Lasse Holm. He has written many other Melodifestivalen entries, of which several made it to Eurovision. In 1986, he was on the Eurovision stage as singer together with Monica Törnell.
Eloise – opinions from fans
In order to find out what Eurovision fans today think of this Swedish entry from 1993, we asked our Eurovision Fan Panel. It includes team members as well as fans from all over the world.
🇳🇴 Robert I. – This is a really good entry. In my opinion it should have won in 1993. It's very catchy, it's a song that makes me happy. I still play it when having parties at home.
🇬🇧 Michael O. – There were lots of good songs in 1993 and Sweden had one of them. However during this period Sweden was just coasting with good songs, nothing remarkable. As a pop tune it's a nice enough listen but far from a winner, it placed where it deserved that year.
🇨🇿 Josef Š. – I first recognised this song during one of the recent Melodifestivalen where they sang it as one of the interval acts. And this is exactly what I like about Swedish pop songs, especially combined with the 90's sound. Positive and catchy pop song. Nothing else is needed when the music is at first place. Of course, it needs also to be well sung, but that is also the case here. With songs like this, it is no surprise that Sweden is one of the Eurovision powerhouses.
🇨🇴 🇫🇮 Alvaro S. – The first impression I have about this boyband is that it did not look very interesting to me. The stage looks so empty when they are just there in a corner performing. Also, all wearing the same clothes looks silly to me and they needed more charisma.
🇩🇰 Liza P. – After having watched ESC 1993, I could only remember two songs – France and Sweden. Eloise is one of my favourite Swedish entries, only surpassed by their 1995 entry. It's not that I consider myself a "Swedish Schlager type", but I was very taken by the start of the song, where the lead singer is kneeling on the floor. Also, the harmony of the voices and the colour coordination is just fabulous. And my favourite part in the song is absolutely the backing singers' short solo of 3 lines. Love, love, love.
🇸🇪 Tommy E. – This is an evergreen in Sweden. Both young and old know it. Simply a good catchy song!
🇩🇰 Charlotte J. – This is a catchy, well produced and well performed song, which usually always brings a smile on my face. I am able to lean back, enjoy it – and sing a long to it. Back then, in 1993, this was my favourite in the contest. Going through the list of participants, I realise that today, it would probably be my third. It's however still one of my favourite Swedish entries. Nothing beats Jan Johansen's Se På Mig from 1995, but this is definitely in my top 5 for Sweden.
🇦🇺 Michael R. – This song is incredibly catchy, well performed and deserved its placing.
🇧🇷 Amir B. – This is a feel-good song that mixes reggae with rock from the '60s that is delicious to hear. It´s a preview of the artists that Sweden would send to Eurovision between 2015 and 2019. This song made me happy and helped me in some moments!
🇸🇪 Jill R. – This isn´t the kind of music I normally listen to, but Eloise is such a feel good song and it always makes me sing. Here, in Sweden it is a big hit and almost everyone knows the lyrics. I have only heard the top two songs in ESC 1993, but I think Eloise was better than both of them. I think that Arvingarna would have placed higher than 7th if the song had been in English. But it´s possible that I am a bit biased since I´m also from Sweden.
The lead singer Casper Janebrink is a very competent singer, which he proved when he won against other Swedish artists in the TV-show "Stjärnornas stjärna". They competed in all kinds of music and Casper nailed every category from latin, soul, country and opera to heavy metal.
In the embedded video below, you can watch this Swedish 1993 entry performed at the Eurovision Song Contest. Below the video, you can read more about Arvingarna.
Arvingarna – a mini biography
The band was formed in 1989, and unlike many other bands, they have managed to keep the same line-up through the years. Casper Janebrink plays bas and sings. He was also front singer on their 1993 Eurovision entry Eloise. Kim Carlsson plays guitar and sings. Lars "Lasseman" Larsson is found on keyboard, guitar and as singer while Tommy Carlsson is drummer as well as singer. The name Arvingarna (The heirs) comes from that all four band members are children of parents who played in dansbands.
Over the years, Arvingarna has taken part in the Swedish national selection Melodifestivalen a total of five times. Below, we bring an overview of these entries.
5 national selection entries for Arvingarna
In 1993 they won Melodifestivalen with the song Eloise. They finished 7th at the Eurovision Song Contest.
In 1995, they took part in the national selection with the song Bo Diddley. Unfortunately didn't make it among the 5 acts that continued to the second round of voting.
In 1999, the band returned for their third national participation. With the song Det Svär Jag På (I swear to that), they finished in 3rd place.
In 2002, they didn't manage to continue in Melodifestivalen as they were unfortunately eliminated already in the preliminary heat. Their was titled Ingenting Är Större Än Vi (Nothing is bigger than us)
In 2019, they returned to the Swedish national selection. With the song I Do, they qualified for the Second Chance heat and from there, they reached the final where they finished in 7th place.