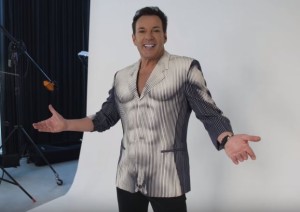 Former Dutch Eurovision participant, Gerard Joling recently released a new single titled Lieveling. It is entirely in Dutch and in the usual up tempo schlager style, which have proven quite successful for him. A video revealing some interesting outfits is available for it.
Gerard Joling is one of the most successful singers in the Netherlands, where the type of schlager music he sings is quite popular. He represented the Netherlands in back in 1988, however his Eurovision entry Shangri-la is not a part of his popular repertoire which features smash hits like Ticket To The Tropics, No More Bolero's, Blijf Bij Mij and Maak Me Gek.
Joling released Wednesday a new single titled Lieveling which translates to Darling. The single is released on iTunes and a video for it is available on YouTube.
In the video Gerard is singing the song in a photo studio with a wardrobe next to it. This wardrobe reveals that he has a lot of jackets to chose between, one of them in particular being quite unusual picturing a well trained male body from the penis and up.
This new single can be heard in the video below: