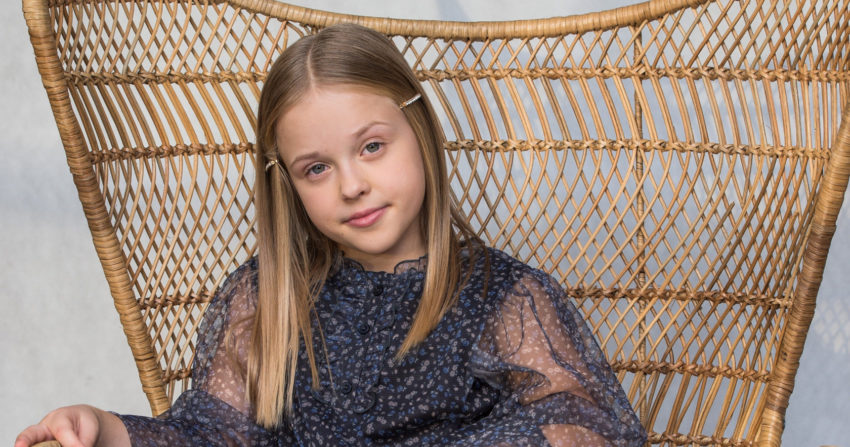 The song is written by Polish Eurovision representative Gromee. He failed to reach the final, but expectations are high for the Junior contest when Ala Tracz sings his 'I'll Be Standing'. In fact, Eurovision fans fear it might be 'third year in a row – victory'.

Alicja "Ala" Tracz comes from a small village Stojeszyn Pierwszy in Eastern Poland and she is 10 years old. She has an older sister Ola, who is also a singer, and together, they released a single Przed Nami Cały Świat in May 2020. Ala has been singing since she was 4 years old when she saw her older sister Ola in a TV competition and decided that now it's her time to shine and become a singer. Since then, Ala represented Poland in multiple international competitions in Malta, Bulgaria, and Italy.
In a TV show The Voice Kids, Ala made it to the final live shows among the Top 9. She was in a team of Dawid Kwiatkowski who was also one of the jurors in the Polish national final for Junior Eurovision Szansa na sukces.
Ala won the national final with her song I'll Be Standing, which was co-written also by Gromee. He represented Poland at Eurovision Song Contest 2018 in Lisbon with his song Light Me Up and was also one of the jury members during the national final won by Ala Tracz.
I'll Be Standing – opinions from fans
In order to find out what Eurovision fans today think of this Polish Junior Eurovision 2020 entry, we asked our Eurovision Fan Panel. It includes team members as well as fans from all over the world.
Josef Š. – Poland is now a powerhouse when it comes to Junior Eurovision and 2020 is no exception. The song is very catchy and memorable even though it is a 4-chord song. Ala has a really powerful voice which fits the song and instrumental parts after each refrain with trumpets are really good. This will for sure appeal to the audience and probably also to the juries. I predict another Top 3 result for Poland this year.
Konrad S. – The song is impressive. It fits perfectly with Ali's vocals. The chorus is memorable, catchy. Besides, it has an important message. The text is about making dreams come true and being yourself. And that we have the strength to overcome adversity. Do we want to win? No! Do we have a chance? Reading reviews on the Internet – yes. We definitely support Ala and keep our fingers crossed for her. She has already proved several times that she feels like a fish in water on stage.
Michael O. – A slightly more kid-like song than some of the other entries, in fact, this one is actually quite good, but if Poland wins this for a third time in a row, then there's no point any entering again.
Steinar M. – Better than the power ballads Poland has sent to ESC too often. Just a modern, catchy radio pop song. Works well. But boring with the predictable oh oh oh's at the end.
Alvaro S. – This little girl looks like she is enjoying her song in the music video. I also like that they try to tell a personal story in the music video. Having said that please Poland do not win again, you're making the fans nervous.
Pawel J. – I am normally quite critical when it comes to songs from my native country- but that's not the case with I'll be standing. I love the powerful uplifting lyrics about not giving up, believing in yourself and better tomorrow. It sends a very positive and optimistic message – especially now in this uncertain situation: "Even when times get tough I'll be standing". Good luck Alicia – win for Poland again.
Charlotte J. – I am mixed here. The chorus is a nice strong pop song, maybe a bit dated, but nonetheless something I actually like to listen to. At Eurovision Song Contest, such a chorus would do well with me. The verses however reminds me that this is Junior Eurovision. They are not up to the same quality as the chorus. All in all, it's quite good, but could have been better, but then it would be too adult, and that I would argue against also. I did say, I am quite mixed, right?
Vivienne F. – Oh I love it! From beginning to end it is upbeat and inspiring. I couldn't stop smiling for the whole song, and what an amazing voice, fantastic video as well.
Wouter V. – A nice and simple song about the hopes and dreams of a young child. Sung by a young child, and very clearly for young children. Unlike some of the other contestants, this is exactly the kind of song I'd expect at a Junior Eurovision. And even though I, by no means, am its target audience I actually quite like the sound of it.
Adi S. – Pretty generic, but good. She has an impressive voice. Didn't leave a lasting impression though, but I'm not generally interested in JESC.
In the video below, you can listen to Ala Tracz's entry I'll Be Standing. Below the video, you can read more about Poland at the Junior Eurovision Song Contest.
Poland in the Junior Eurovision
Poland already took part six times in the past, with 2020 marking it's 7th attempt. In both of the first two years (2003 & 2004), Poland ended on the bottom of the scoreboard, so they withdrew and came back in 2016. It was already a change as they slowly started to get better and better results. From 11th and 8th in 2016 & 2017 they went to end up winning two times in a row in 2018 & 2019. It may be caused partially by the new voting procedure where online voting is open for everyone and you can vote for your own country. Considering that in Poland Junior Eurovision has the highest viewing rates from all the competing countries, it shows some trends. We'll see if 2020 will be different or not.