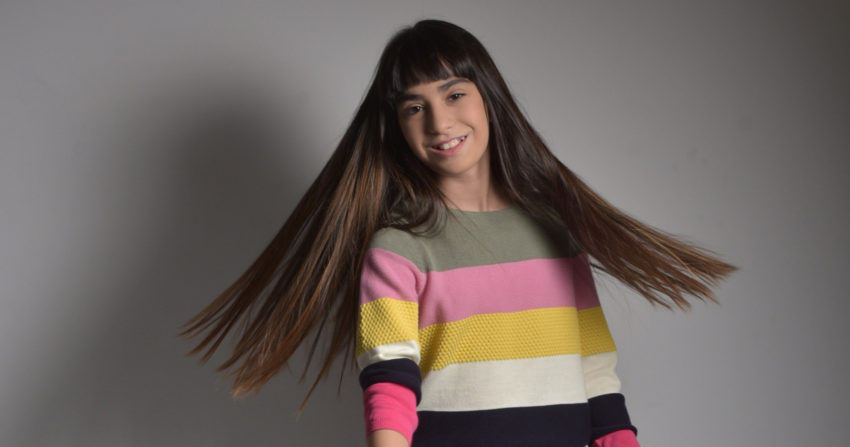 The country is yet to win the Eurovision Song Contest, but the Junior edition; that Georgia knows how to score well at. Sandra Gadelia aims at bringing home their 4th victory this year. 'You Are Not Alone' from Georgia is today's Junior focus article.

Sandra Gadelia is 10 years old and comes from Tbilisi, the capital of Georgia. Sandra has been doing music since her early childhood and it was always love and passion. If we look at her list of favourite artists, we see a wide spread from Louis Armstrong, through Scorpions, to Jessie J. Sandra won this year's edition of Ranina which is the Georgian national final for Junior Eurovision. It is one of the longest Junior Eurovision Song Contest national finals (maybe even in terms of Eurovision Song Contest) running from September to November.
The entry is called You Are Not Alone and is sung in a mixture of Georgian and English. The composer behind this year's entry is Giga Kukhianidze. If this name rings a bell in your head, it's perhaps as he was already behind 10 Eurovision Song Contest songs for Georgia and out of that, in all three cases when Georgia won the contest.
You Are Not Alone – opinions from fans
In order to find out what Eurovision fans today think of this Georgian Junior Eurovision 2020 entry, we asked our Eurovision Fan Panel. It includes team members as well as fans from all over the world.
Josef Š. – Sandra is so young and her voice is so powerful. I am just amazed. This is simply a perfect combination. Quite a variety of styles in one song and the melody is really well built, no surprise this composer won already few times as he knows what he is doing. Good job, Georgia. I hope you are going to win!
Andrew G. – What's not to like about this Junior Eurovision entry? Sandra Gadelia vocals are flawless. Love the mix of English and Georgian. And instruments with the strings and the modern elements and traditional are brilliantly brought together to bring home a win for Georgia.
Charlotte J. – Before starting listening to this year's Junior Eurovision entries, I haven't heard any of the songs in many years. While I do like some of the songs this year, this is unfortunately not one of them. I have also heard many great musical talents this year, unfortunately Georgia's Sandra doesn't belong to one of them, in my opinion. I am sorry to say this about a 10 year old girl, but I have to be honest. If she was my daughter, I would be proud of her, but I also think, I would encourage her to get a good education.
Vangelis M. – Georgia has a good title for this year Junior Eurovision Song Contest. You are not alone is a phrase everyone needs to hear in this period in quarantine. However the song is average and flat. Nothing that makes you remember it. Good luck next time.
Anton S. – As always, Georgia sends a very strong vocalist with a pure genre song. This year we have strong and motivating genre. It is an ideal song for last position of the evening when all are ready to use the lights of their mobile phones, put hand in hand and go together to the light. On the background of all the other songs it is looks very nice. With 7th number after Poland it can be ruined and it can destroy hopes of Ala Tracz. Georgia deserves to be on a better position, but everything this year is doing to save us from a 3rd victory to Poland.
Alvaro S. – I fear this song will be underrated because the high notes and the backing vocals sound amazing. However this type of songs, at least in the adult Eurovision usually are ignored. The whole atmosphere of this song impressed me.
Michael R. – Georgia used to be a powerhouse of Junior Eurovision, always delivering great young singers with great songs. Nowadays, they seem to just deliver great young singers with average songs. Sandra is incredibly talented but the song feels a little too repetitive. Still I think it has a relevant message for the current situation and If staged well could do quite well with juries.
Michael O. – Another big dramatic entry from Georgia. Quite the ensemble if everyone in the video will perform on stage. Nothing to dislike here and it should be about Georgia's turn to win yet again.
Wouter V. – Sandra Gadelia clearly has a very wide vocal range, and she uses the extend of it in her You Are Not Alone. Which proves that moderation really is a good thing. But I do give this song some bonus points for having children play all the instruments, assuming they're not just in the video for show.
In the video below, you can listen to Sandra's entry You Are Not Alone. Below the video, you can read more about Georgia it the Junior Eurovision Song Contest.
Georgia in the Junior Eurovision Song Contest
When we say Georgia in terms of Junior Eurovision, we are speaking about the most successful country in the competition. Since its debut in 2007, which is a total of 13 participations, Georgia managed to win three times. First one in 2008, then in 2011 and the last time in 2016. During Georgian history in the Junior Eurovision, they placed only twice outside of the prestigious Top 10. As we already mentioned, it's Giga Kukhianidze who stood behind all but three entries in the Georgian Junior Eurovision Song Contest history. Will 2020 be his 4th win with Sandra Gadelia?
Even though winning three times already, Georgia hosted Junior Eurovision only once, in 2017 after the victory of Mariam Mamadashvili with her song Mzeo. There is no such rule as we know from Eurovision Song Contest that would grant the winning country the right to host the contest the next year. In the last two years, though, we saw the contest to be held in Poland that won both years 2018 and 2019.