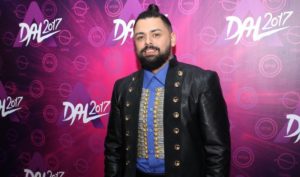 It's been a six weeks extravaganza for A Dal 2017, the national selection for Hungary's pick for the Eurovision Song Contest. Tonight was the grand final where Joci Pápai was chosen to fly the Hungarian flag in Kyiv.
Eight acts fought tonight at the grand final of A Dal 2017. Interestingly, only three of them were in the English language. Let's find out how it all went down.
The Songs
Gabi Tóth & Freddie Shuman feat. Begi Lotfi – Hosszú idők
First up is Gabi Tóth & Freddie Shuman feat. Begi Lotfi. The musical arrangements seem a bit different from the previous performances. Gabi looks beautiful and is as usual giving a strong performance. The staging is a lot more on point than the previous few weeks too. The dance break is fantastic! This has strong chances of winning.
Soulwave are up next with their song Kalandor. The band was picked during the second round of votes from last week's first semi-final. The song is decent, and the band is charming but I can't see this as a winning song.
The third song up is See It Through by Gigi Radics. She hasn't changed much of her performance since the first heat she performed in other than her outfit. She looks beautiful and glamorous. The song has this 90s ballad charm as well as a bond theme element, but this has already been done at Eurovision, so I am not sure how well this can go.
Kállay Saunders Band – 17
Up next is Kállay Saunders Band, lead by Andras who of course represented Hungary at Eurovision in 2014. His song Seventeen probably has the most contemporary sound of any finalists tonight. His vocals tonight weren't quite as strong as the previous weeks in my opinion. The stage production was nice with the added polaroid pictures forming a heart at the beginning. Overall though not the best from Kallay-Saunders.
Leander Kills – Élet
Rockers Leander Kills are up next with the song Élet. I can't help but feel a very strong 90s influence on this song too. It's one of those emotional rock power ballads mixing piano with electric guitars. The crowd seems to appreciate this one. I can't really fault this entry, the song sounds nice, I don't think it has much of a shot at Eurovision however.
Zävodi + Olivér Berkes – #háttérzaj
Next up is Olivér Berker's soulful voice and Zävodi. This is such an interesting song. It's not particularly catchy but there is an element that captivates you during their performance. It also looks like they are maintaining the burning piano gimmick.
Joci Pápai – Origo
Next up is Origo by Joci Pápai. This is such a special song. In my opinion this is truly one of the outstanding moments of A Dal 2017.
Gina is the last to sing. She received huge praise from the judges during her heat. This is a bit of an odd song, Gina delivers some great vocals but it just sounds odd to me. I can't see this doing well at Eurovision at all unfortunately.
The Show
The biggest change with the final compared to previous semi-finals and heat is that the jury are selecting the top 4 out of the eight entries competing. From these four, the public then vote for the winner.
During the interval act, a song from A Dal 2017 was awarded best acoustic version. The award was given to Benji for his acoustic version of Karcok.
Freddie, the winner of A Dal 2016 then came on to perform a medley of his song Ez a vihar and his Eurovision entry Pioneer.
We were then treated to a performance by judge Caramel.
The Results
The jury picked the following four artists as their top picks:
Joci Pápai
Zävodi + Olivér Berkes
Gina Kanizsa
Gigi Radics
The public were then asked to vote for the winner.
Watch the winning performance below by Joci Pápai