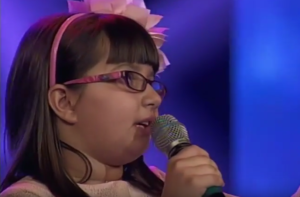 The Junior Eurovision Song Contest selection period kicked off with Albania tonight. Klesta Qehaja was chosen by a professional jury to represent Albania at the contest in Malta in November. The song is written by well known Albanian songwriters.
Mother Eurovision may have ended for this year, but the Junior Eurovision Song Contest has just started its journey. Albania was the first country to choose their song for this year's Junior edition, Klesta Qehaja from Prishtina, Kosovo won the 52nd Festivali i Këngës për Fëmijë with the song Besoj (Believe), written by Pandi Laço and composed by Adrian Hila. Pandi Laço and Adrian Hila also composed the Albanian song for the 2015 Junior Eurovision Song Contest and have both had success in the Festivali i Këngës and other music contests in Albania.
Klesta performed 10th in the running order and her performance were well received by the audience and the jury members. She has been singing since she was still in kindergarten and is mostly known from her participation in Gjeniu i Vogël 7, where she even covered the song Suus by Rona Nishliu ( Albania Eurovision 2012).
Here is the running order of the songs that competed in the 52nd Edition of the Festivali i Këngës për Fëmijë tonight:
Botë Mirësie Kërkoj
We Need Love
Vetëm Nuk Je
Si Fluturim
Prindër
Largoje Trishtimin
Music Makes My Day
Në Mes Yjesh
Dua Të Jem
Besoj
Dua Te Jem E Lirë
Lulja Që Më Dhurove
Mirë Se Erdhe Flutur
Portat E Gëzimit
Last year Albania was represented by Mishela Rapo with the song Dambaje finishing 5th and marking Albania's best position in the Junior Eurovision Song Contest. Will Klesta bring Albania another success in the contest?
Below you can check out  her song Besoj, with which she will compete in Malta on the 20th of November.