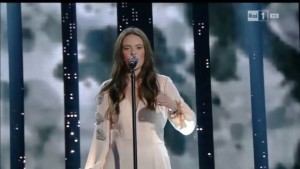 The composer of Francesca Michielin's Sanremo entry Nessun Grado di Separazione has confirmed that "Nessun Grado di Separazione" will be the Italian entry for the 2016 Eurovision Song Contest held in Stockholm, Sweden in May. 
After Italian broadcaster RAI confirmed that Francesca will wave the Italian flag to Stockholm, one of the composers of the song, Federica Abbate now revealed on her Facebook page yesterday that the song Francesca sang in Sanremo 2016 is first on spotify and will be the Italian entry at 2016 Eurovision Song Contest.
We have to wait for the official confirmation from RAI and a 3 minute version of Nessun Grado di Separazione. Il Volo also reworked a 3 minute version for Eurovision last year, as Grande Amore also was longer in its original form. Below you can listen to Nessun Grado de Separazione.