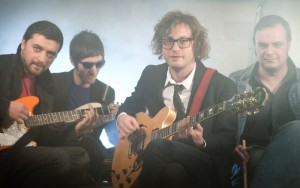 As announced in December, the representatives for Georgia at the 2016 Eurovision Song Contest will be Nika Kocharov & Young Georgian Lolitaz. On February 4th, the band presented five songs that the Georgian public could choose from. Today, it was announced that Midnight Gold will be the song to compete in Stockholm next May.
As we reported back in December, Nika Kocharov & Young Georgian Lolitaz were selected internally by the Georgian Public Broadcaster to represent Georgia at the next Eurovision Song Contest. Over one hundred songs were reviewed by a jury of experts and five were selected for the band to present on February 4th:
After the five songs were presented, the public was asked to vote for its favourite entry and the results of those votes, along with votes from an international expert jury, were combined. In the end, Midnight Gold was selected as the Georgian entry for 2016.
Check out the live performance of Midnight Gold by Nika Kocharov & Young Georgian Lolitaz. They will perform in the second half of the second semi-final of the 2016 Eurovision Song Contest in Stockholm, which will be on May 12th.
Georgia in the Eurovision Song Contest
The first time Georgia entered the contest was in 2007 and has since then only missed the contest once, in 2009, due to some of the lyrics in the song they had intended to enter with, which made references to Russian Prime Minister Vladimir Putin.
Georgia's best placing so far was in 2010 and 2011 when it finished in ninth place on both occasions. In 2010, Sopho Nizharadze competed with the song Shine and, in 2011, Eldrine with One More Day.
Below is a compilation of EuroVisionary's highlights of Georgia's songs from 2010-2015.