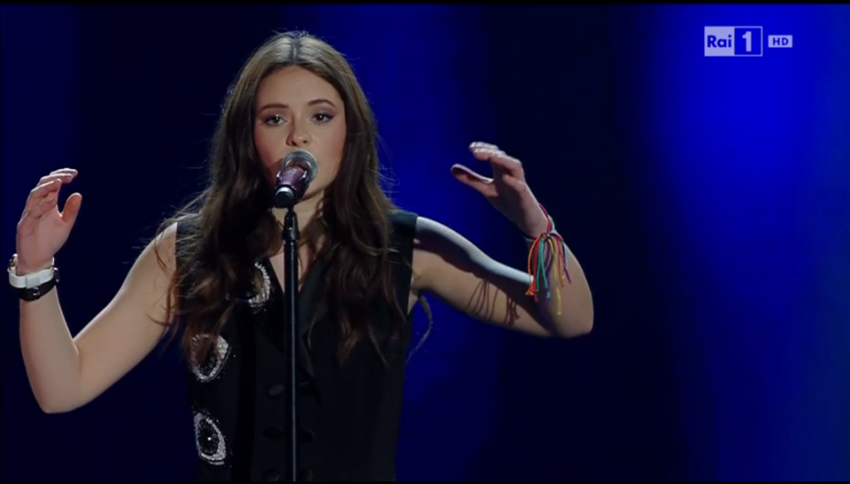 This afternoon Italian broadcaster, RAI announced that it will be Francesca Michielin to wave the Italian flag in Stockholm for the 2016 Eurovision Song Contest. Full result of the 66th Sanremo festival has been announced as well.
As we have already reported in our previous articles, Sanremo 2016 was the most successful within the last 11 years. The final scored a 52% share in viewing figures and an average of more than 11 million viewers. The first part of the show was watched by an average of  a 48,76% share and the second part in early hours still by 64,89%. The peak figure was when over 13,5 million viewers watched Patty Pravo's performance in Clementino. . A huge success, and in social media with more than 600.000 tweets during the final and a total of 2,7 million. This festival has cost 15,5 million euros (0,5 less than last year) but the income from sponsors and tickets etc is over 21 million euros so RAI made 6,5 million euros from the whole festival.
Who will go to Stockholm?
Stadio  won the 66th Sanremo music festival with their song Un giorno mi dirai. They would have the right to represent Italy in the Eurovision song contest 2016 in Stockholm but as RAI tweeted some minutes later, Stadio rejected the opportunity  to represent their country at the 2016 Eurovision Song Contest. However in the press conference that was held last night after their victory Stadio said they have to rethink about it over the next few days, and can't say for sure right now.
Stadio according to local Italian sites, finally told  RAI that they can't do Eurovision as they have already planned a tour.
We would love to participate, but we have a tour already planned
RAI just after the end of the yesterday's final and Stadio's refusal to go to Stockholm, announced again through Twitter that according to the Festival di Sanremo rules, they will soon announce the name of the Italian entry for the Eurovision Song Contest.
Second place in Sanremo 2016 Grand Final went to Francesca Michielin and in third place it was the duet of Giovanni Caccamo & Deborah Iurato, both of them express their desire to do Eurovision.
Update:
Just  some minutes ago  Francesca Michielin announced through her official account in Twitter that she will be the Italian representative in the upcoming Eurovision Song Contest. It is not known at this stage what her song is for the contest or when it will be announced.
🔸È ufficiale: Francesca rappresenterà l'Italia nell'edizione 2016 dell'Eurovision a Stoccolma!!! #Sanremo2016 @Eurovision 🔸

— Francesca Michielin (@francescacheeks) February 14, 2016
This is the song with which Francesca reached the second place in Sanremo's final yesterday
Sanremo full results
RAI revealed today the full results of all the nights for both categories. On the final Stadio won the televoting in both rounds. In the first round second in the public  vote was Lorenzo Fragola and third Patty Pravo who finished in 5th and 6th place respectively due to the vote of the juries. Stadio won also the demoscopic and the expert jury in the first round. Francesca Michielin who was 5th in the televoting managed to finished in top3 in the first round of the voting mostly because of the demposcopic jury where she was second. Giovanni Caccamo & Deborah Iurato who was also in top3, were only 7th in public, but second in expert jury. You can watch below the full results of the first round:
Draw
Artist
Song
Votes
Place
Demoscopic
Poll (30%)
Expert
Jury (30%)
Public (40%)
Total
1
Francesca Michielin
"Nessun grado di separazione"
9.72%
6.88%
8.17%
8.25%
2
2
Alessio Bernabei
"Noi siamo infinito"
3.12%
0.00%
8.05%
4.16%
14
3
Clementino
"Quando sono lontano"
4.22%
3.75%
7.80%
5.51%
7
4
Patty Pravo
"Cieli immensi"
5.98%
3.75%
8.23%
6.21%
6
5
Lorenzo Fragola
"Infinite volte"
5.93%
2.50%
9.40%
6.29%
5
6
Noemi
"La borsa di una donna"
8.03%
4.38%
4.12%
5.37%
8
7
Elio e le Storie Tese
"Vincere l'odio"
6.13%
4.38%
2.66%
4.22%
12
8
Arisa
"Guardando il cielo"
7.20%
3.13%
3.73%
4.59%
10
9
Stadio
"Un giorno mi dirai"
10.57%
45.00%
10.30%
20.79%
1
10
Annalisa
"Il diluvio universale"
6.52%
0.63%
5.45%
4.32%
11
11
Rocco Hunt
"Wake Up"
6.00%
1.25%
7.43%
5.15%
9
12
Dolcenera
"Ora o mai più (le cose cambiano)"
6.38%
1.88%
2.39%
3.43%
15
13
Enrico Ruggeri
"Il primo amore non si scorda mai"
7.52%
8.75%
3.62%
6.33%
4
14
Giovanni Caccamo & Deborah Iurato
"Via da qui"
6.32%
10.63%
7.85%
8.22%
3
15
Valerio Scanu
"Finalmente piove"
2.95%
0.00%
8.20%
4.17%
13
16
Irene Fornaciari
"Blu"
3.42%
3.13%
2.60%
3.00%
16
Things in the second round of voting were more simple. Stadio was first in both votings, Francesca was second and the duet was third. You can watch the detailed voting below:
Draw
Artist
Song
Votes
Place
Demoscopic
Poll (30%)
Expert
Jury (30%)
Public (40%)
Total
1
Giovanni Caccamo & Deborah Iurato
"Via da qui"
29.39%
25.00%
26.43%
26.89%
3
2
Francesca Michielin
"Nessun grado di separazione"
34.72%
27.08%
29.58%
30.37%
2
3
Stadio
"Un giorno mi dirai"
35.89%
47.92%
43.99%
42.74%
1
You can watch our compilation of the last 5 years of Italy in the Eurovision Song Contest