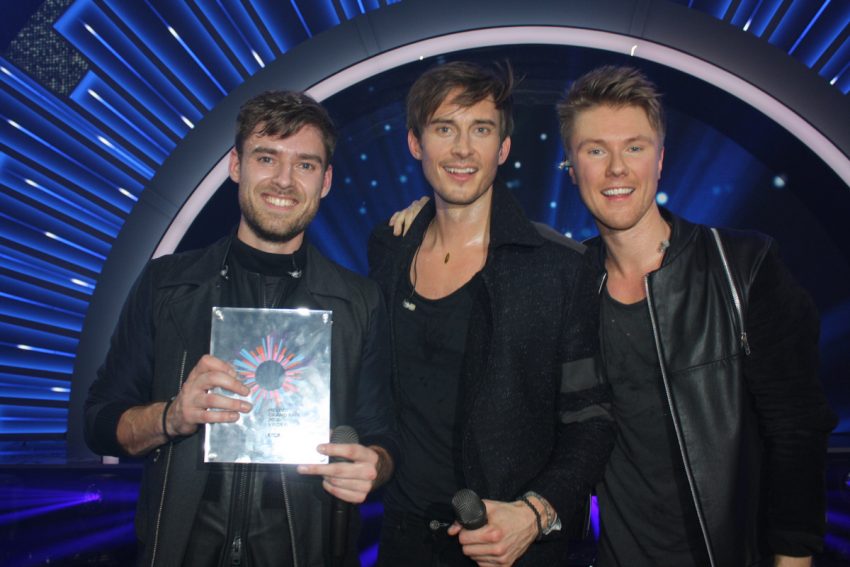 Minutes ago, the Danish public decided to send Lighthouse X off to the 2016 Eurovision Song Contest in Stockholm with one goal only: To make sure Denmark win its third Eurovision victory on Swedish ground. 
Ten acts were battling it out tonight hoping to be the one to continue the tradition with Danish wins in Sweden.
The songs
Read about the participants in our Get to know article.
David Jay – Rays of Sunlight
What an opener. David is confident, he enjoys being on stage and he really delivers a very solid performance. He gets the party started. David is dressed in a black suit and wears a black hat. With him on stage are four male dancers who follows him when they should, but also give him space to unfold as an artist. Pyrotechnics are added before the last chorus. It is hard to imagine any of the other songs being such a great opening act.
Simone – Heart Shaped Hole
Next up is the most experienced Melodi Grand Prix act of these 10. Simone has tried it twice before and came third both times. Being the bookmaker favourite she is one to pay attention to. In 2013, the former child star shocked many with a very sexy performance. She has toned down this time, but still show off her legs in an long dress open at the legs. Simone has two dancers with her on stage, a male and a female. They are focused on each other and do not take focus away from Simone who herself starts out in the middle of a giant heart, she gets down, but at the end of the song is back in the heart and lifted up.
Bracelet – Breakaway
We continue with the young Danish/Swedish band which of course are being presented with their ABBA family background. Bracelet does deliver a good job with lead singer Charlie being an excellent performer able to burn through to most girls behind the TV screen. Besides Charlie in front we have Rebecca on bas and Felix on drums. They however also added another female musician and two male dancers for this performance. Pyrotechnics are used, and a lot is going on, maybe too much, hard to tell.
Sophia Nohr – Blue Horizon
Stunning, beautiful and dreamingly, that is what we get in this performance from Sophia Nohr. It is very well staged and catches your attention immediately, the staging that is. Sophia is dressed in a long grey dress with a light cardigan over her. On stage with Sophia is a drummer and a contra bass player. Trees with white branches, and smoke are used to set the atmosphere. Unfortunately Sophia was sick and this was unfortunately visible in the performance tonight.
Veronicas Illusion – The Wrong Kind
Officially Veronica is here as a solo artist, but it almost appear like she is just one part of this girl band a la Spice Girls. She has four female backing singers with her, but they take up so much that they become a lot more than just backing for Veronica. The dressing of all "five band members" is very much high school. Veronica herself is in a golden short skirt and a college jacket.
Lighthouse X – Soldiers Of Love
Last night's exit poll (audience was asked as they left the dress rehearsal) was won massively by Lighthouse X where the X is pronounced as 10. It has to be added though that they also made it to the super final and won the fake voting and as such the audience did hear them more times. One of these three men, Søren Bregendal, is with his 32 years the oldest of the participants tonight. (Yes, it is very young field DR has selected this year). The guys do deliver a great performance, simple but great, and of course don't underestimate three good looking men who can appeal to the 16 year old girl as as well as her 40 year mother. The song comes a cross as very strong radio hit and if the TV audience picks up on the same thing as the audience did last night, we are in for a surprise.
Kristel Lisberg – Who Needs A Heart
From the Faroe Island we got Kristel who just like Sophia comes with a very beautiful and dreamingly performance. Kristel has a violin player and four backings on segboards – violin have worked before in Eurovision so who knows if the combination of segboards and violin could do as well. Smoke on the stage gives the feeling that Kristel is performing in heaven, stunning. She sings it very well and is to be considered a strong contender though the bookmakers might not have noticed it.
Jessica – Break It Good
If you are into colour confusion and happy reggae vibes, you are on the right track with this song. Jessica comes with two female dancers who are just like her dressed in a very colourful outfit, one in leggings and the other one in a short skirt. Jessica is in trousers and a long shirt. She moves a lot, and she comes across as a very friendly person, but the song just doesn't appear strong enough in this field.
Muri & Mario – To Stjerner
This Danish/Italian band is the only act tonight performing in Danish, and when they said in the introduction video that "we are Danish so of course we sing in Danish", the audience broke out into a giant applause. These guys have a lot going for them. They are young, charming and come with a catchy song which you can instantly sing a long to and remember. Furthermore they deliver a good performance where a circus artist is hanging in a ring on each side of the stage, the audience is involved with lights and confetti rain hits near the end. With them on stage is a guy called Kim. He became known through a TV2 docu soap about how people with Tourette's syndrome can benefit from music. If you are familiar with Kim's story, his appearance here might be touching, but if you are not, it comes across as odd, and no matter what then him being all over Muri at the end, will be a turn off which will cost them votes.
Anja Nissen – Never Alone
We end with song number 10, which statistically have the best odds of winning in Denmark, and no doubt Anja also deliver what takes to live up to that. This Voice of Australia winner is confident and sings well. She is dressed in a short black dress, have three male dancers and a female backing vocalist with her on stage. She interacts with one of the dancers as she takes his hat off and try it on herself. The backdropping for this one is really good with wings being spread out as Anja sings about exactly that. Biggest surprise of the night must be if this somehow fail to make it to the super final with the top three acts.
The Show
The show opened with the story of Denmark's two Eurovision wins in Sweden, and how they are now up for the third time. After that an interval act with dancers came on stage and the hosts joined for a song which played on several Danish former Melodi Grand Prix entries telling about what Sweden have what Denmark doesn't, but also the fact that Denmark is going for the hattrick by winning three times in Sweden. Well performed and very entertaining.
Throughout the show, the greenroom host Hilda Heick featured in several videos where former Danish Eurovision acts like Olsen Brothers, Birthe Kjær and Søren Poppe appeared as the ones who was being taught about how to perform better – by Hilda. To the Danish TV viewers this was very well made and extremely entertaining. One of the clips included a Swedish Eurovision delegation asking Hilda for help on how Sweden can do well in Eurovision 2017 held in Denmark.
The other two hosts were Jacob Riising, experienced DR TV host and Annette Heick who is the daughter of greenroom host Hilda, and Keld Heick who wrote an almost uncountable number of Danish final songs (is it 33?) with nine of them making it to Eurovision. Annette has taken part twice in the national selection herself.
Last year Jørgen Ingmann unfortunately passed away, but a tribute to him and his song Dansevise, Denmark's first Eurovision victory was paid in the show.
As interval act we first saw the participants who will compete next week in MGP, the Danish junior show. Sweden's 2012 Eurovision winner Loreen had also been flown in. It is striking how often Loreen is still acting as interval acts all around Europe while Måns Zelmerlöw is rarely seen.
The result
For the Danish final this year broadcaster DR got rid of the points. It will remain a secret who came 4th to 10th. The voting consisted of two rounds. In the first voting window the public vote (SMS and APP) counted for 50% and the remaining 50% came from a jury consisting of Choreographer Vicky Leander, OGAE Denmark member Mette Thorning-Svendsen, 2010 Danish Eurovision participant  Christina Chanée, Eurovision songwriter John Gordon who wrote the German 2010 winner Satellite and radio host Dennis Johannesson.
After the first round of voting three acts made it to the super final. These were: Simone, Lighthouse X and Anja.
In the second round of voting only the public were voting (SMS and APP) and as such there can't be a situation like last year where a jury overrule the opinion of the public. Finally Lighthouse X was declared the winner.
Denmark at the Eurovision Song Contest
It was in the second year of the Eurovision Song Contest when Denmark joined. It is an anecdote in Denmark that the song only came third as the couple kissed a bit too long at the end of the song, something which offended the Catholic countries.
Denmark has won the contest three times, in 1964 with Grethe & Jørgen Ingmann's Dansevise, in 2000 with the Olsen Brothers and their Fly On The Wings Of Love and finally again in 2013 when Emmelie de Forest charmed Europe with her song Only Teardrops.
In the years 1967 – 1977 (both included) Denmark didn't take part in the Eurovision Song Contest. Best known explanation is that the new boss in charge of DR simply didn't like the contest and the pop music it represented.
Below you find a playlist with all the participants taking part in our Would You Game game just two days ago – watch them all or just select your favourite acts: