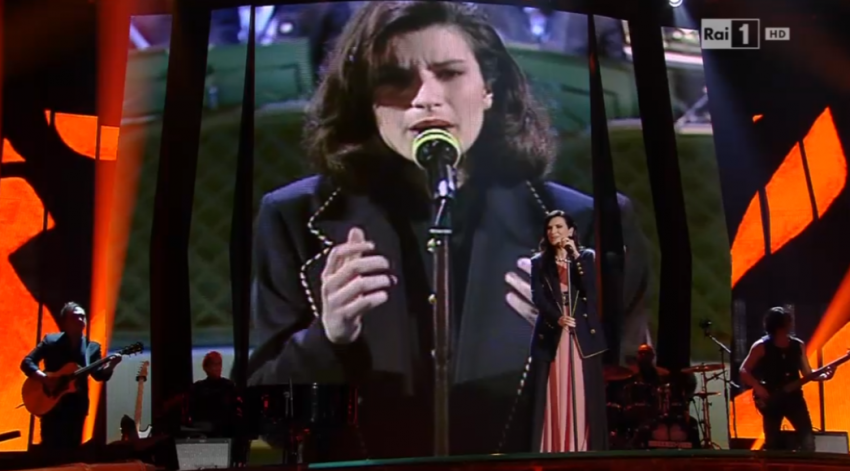 This evening, the famous Italian music festival Sanremo kicked off. With some of the most popular Italian artists competing for this year's trophy, worldwide guests, a complex and countless voting the festival started with the first 10 big artists presenting their songs to the public.
Ten Campioni's song were presented tonight and there wasn't any eliminations. The voting as tomorrow was 50-50 by televote and by the journalists in the press center (composed of accredited journalists that will follow the competition from the Roof hall at the Teatro Ariston). Carlo Conti presented the show together with Virginia Raffaele, Mădălina Diana Ghenea and Gabriel Garko. Tonight's guests performances were by Laura Pausini. Elton John and also by Maitre Gims. Comedian trio Aldo, Giovanni and Giacomo were there as well, along with athlete Giuseppe Ottaviani (aged 99).
The songs
Click on the names of the artists and the songs to watch the performance from Teatro Ariston.
Dressed in a dark blue, Lorenzo sings his sweet ballad with little stress in his voice. He stands in the middle of the stage. He has a characteristic tint in his voice, but unfortunately for him he is off on several points. A ballad with a climax. He has to improve if he is to win the ticket to Stockholm. He has already said that he wants to do it, and has an English version of his song ready. A ballad maybe just not strong enough like L'Essenziale for example.
With a black dress and shadows as background Noemi sings a classic Italian song. A beautiful song with interesting lyrics and well sung with her wonderful voice. Maybe not so immediate.  A song that may do better in juries than in televoting.
Another ballad here! More contemporary, with a rock flavour in it. Dark suits for them, too. Unfortunately their vocals are weak, although it's not a bad song.
The hot favourites to win according the betting offices. Ιn grey and blue for him, purple dress for her. Both sitting down at first. Good vocals, soft ballad with enough drama and camera work. Classy and sweet. Very Italian. Very Sanremo. I don't know how it could do in Eurovision though.
Starts as a soft rock ballad with almost shispered vocals but then builts up to a rock anthem. The most energetic song till now, nice vocals, nice camera work, a big applause in the end.
One more favourite for the victory, Arisa who has already won Sanremo in 2014. Very casually dressed holding Noemi's rainbow stripes. Very beautiful piano driven song and wonderful vocals. There's a rumour she's pregnant and could be the reason she has changed her mind of Eurovision finding it too stressful at this moment. A cute appearance.
Rock outfit for this rock pop song in reggae rhythm, catchy and instant. The first song till now that is not a ballad. This may help it in the televoting. It's 80s inspired, but for sure not a good idea for Stockholm.
A midtempo song here and for sure the worst vocals of the night. The first candidate to be eliminated on Friday.
We continue with an uptempo song. It has a  rhythm. It could be described as a rap song. Napoletan rap with political lyrics. Not bad, but a song for radios more than Eurovision.
We return to ballads after some more uptempo songs. Another lady in black. And with the Pride stripes. The song has a lovely atmosphere and melody. The song is about the refugees that have lost their lives in the sea (Blue) It could do well even in Eurovision i think and it is one more songs in a national final about that serous theme.
The show
The show started with a big commercial break (Italian RAI is known for long advert breaks). After that we are inside Teatro Ariston, we see Carlo Conti and immediately we have the 65 previous Sanremo winners in a medley. Of course the video ended with last year's representatives of Italy at the Eurovision Song Contest, Il Volo. Next we get some short videos from the red carpet and from all the contestants speaking to get to know them better, stories behind their participation, what they think of each other. Second break is a fact!
And now we are inside Teatro Ariston again with an impressive demonstration of the live Sanremo's orchestra. Carlo Conti appeares on stage and welcomes the viewers. He explains the rules, and the telephone numbers people have to call or send sms in order to vote their favourites artists. After that we go straight to the first contestant.
Mădălina Diana Ghenea appeares on stage after the first song presentation and she introduces us the second participant. After the second contestant we have Virginia Raffaele on stage who introduces us the third participant.
Just after the third song a 99 years old athlete Giuseppe Ottaviani appears on stage and all the people inside Teatro Ariston give him a big applause. The last co host of the night Gabriel Garko now appears on stage and presents us the fourth entry.
After the fourth song we have another break. It's time for another guest, a singer this time. Laura Pausini, one of the most popular Italian artists, who has started her career through Sanremo is on stage. With a medley of her hits. She told before, this stage scares her still and she only hopes she won't sing bad because she'll be so nervous. In the end people get crazy with her. Before Laura leaves Sanremo's stage, she sings the song with which she won the newcomers's section when she was 18, La Solitudine, wearing the same jacket. After Laura Pausini leaves the stage we continue with the next contestants.
We have the fifth and the sixth song and then once more advert break. We are back in Teatro Ariston with Aldo, Giovanni and Giacomo who are all comedians, they making some kind of stand up comedy, and after them the seventh and the eight song presented. One more advert break then.
Sir Elton John enters Sanremo's stage with his piano singing Your Song. He sings Sorry after giving an emotionally performance. Blue Wonderful is the next song. We have the last songs after Sir Elton John and last but not least is Maitre Gims, tonight's last guest star. He presented his latest song Est-ce que tu m'aimes? which became platinum in Italy.
Before the results we have a recap of the songs and another comedian act. A break again.
The results
As we have already said in the first two nights there will not be any eliminations in the Campione section. The public through televoting and the press votes in the first two nights. Tonight's and tomorrow's results are added to Friday's results in order to have the Top 15 that qualifies to the Final.
The four entries that didn't do so good at the voting and ranked in the last four places and faces an elimination on Friday are:
Dear Jack
Noemi
Irene Fornaciari
Morgan & Bluvertigo
Italy in the Eurovision Song Contest
Italy has participated in the Eurovision Song Contest 40 times since making its debut at the first contest in 1956. It was one of only seven countries that competed in the very first contest. Italy competed frequently in the contest until 1997. After a fourteen-year absence, the country returned for the Eurovision Song Contest 2011, with a respectable second place achieved by Raphael Gualazzi and Madness of Love. Italy has won the contest twice (1964 and 1990).
Along with Germany, France, Spain and the United Kingdom, Italy is one of the Big 5 who are automatically allowed to participate in the grand final because of their contribution to the Eurovision Song Contest, both with a substantial amount of viewers and economically.
Last year in Vienna, Il Volo was one of the favourites to win. They finished third, but the Italian group was rated first in the televoting.
Below you can watch a compilation of the last 5 years of Italy in the Eurovision Song Contest. We did our best to find our greatest footage, and maybe you'll see something you haven't seen before.