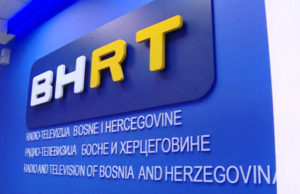 Since 2012 Bosnia and Herzegovina participated only once in the Eurovision Song Contest due to the national public broadcaster's (BHRT) heavy financial problems. Various international organisations will meet in Sarajevo today in order to try to solve the complex problems, that public service media (PSM) is facing in the country.
Today's conference in the Bosnian capital is being organised by the EBU, BHRT, the Bosnia and Herzegovina Journalist Association, the Council of Europe, the Office of the OSCE Representative of Freedom of the Media, the European Federation of Journalists and the South East Europe Media Organisation. It is an opportunity for authorities in Bosnia and Herzegovina to meet with representatives of the media, international organizations, civil society and other experts to discuss possible solutions for the crisis and ensure proper implementation of Council of Europe and European Union standards.
In the past BHRT has accumulated substantial debts of around 20 million Euros mainly because of a very ineffective collection system of the licence fee. Until one year ago the fee was collected through telephone bills. Since then the Bosnian government failed to agree on a long-term solution for funding PSM. If PSM in Bosnia and Herzegovina collapses it would not only have a huge negative effect on the media system – it would also contribute to a further fragmentation of the country along the ethnic lines.
For many years EBU have tried to find a solution for the broadcaster's problems. For instance in June last year, EBU chose to extend the deadline for BHRT to pay part of their debt to the EBU. As it didn't happen, EBU decided to impose sanctions against the Bosnian and Herzegovinian broadcaster in December last year denying them access to the Eurovision News Exchange.
Strong PSM is the bedrock of democratic societies. We urge authorities in BiH to take urgent action to safeguard the future of PSM so it can play an active role in promoting and reinforcing democracy, fostering ethnic tolerance and ensuring social cohesion.

Ingrid Deltenre, EBU Director General
Last time Bosnia and Herzegovina took part in the Eurovision Song Contest was in Stockholm last year, only because BHRT managed to secure sponsorship to cover both the participation fee and all costs related to the participation. The country didn't return to the contest this year due to the financial problems as it was the case in the period 2013-2015. We hope that today's conference will offer some sustainable and long-term solutions for BHRT making it possible for Bosnia and Herzegovina to return to the contest already next year.
Refresh your memory of their 2016 entry in the video below: