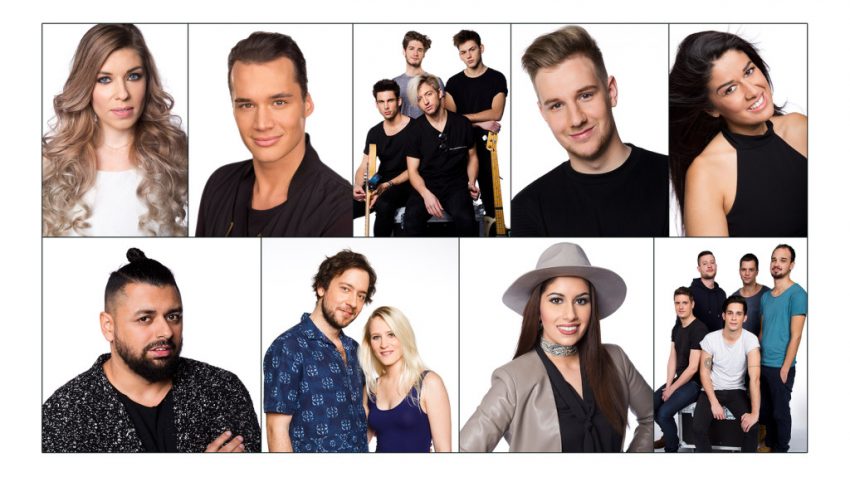 Tonight the first four acts went through to the final of the A Dal 2017 contest in Hungary. Nine qualifying acts, from the three previous weeks fought it out for a place in the final.
The Hungarian entry is just one week away from being chosen. Tonight, four acts will join another four from tomorrow night, to compete in the Grand Final on February 18.
The Songs
Soulwave – Kalandor
First up tonight were Soulwave. They are a five piece band, four playing guitar, and a drummer. The song has an acoustic feel, which some countries seem to think will make them win. You'd walk by them if they were busking in the street singing this. The song has an upbeat feel, ByeAlex has a lot to answer for.
Viki Singh – Rain
Has anyone read the official rules of 2017. Do they say it is mandatory all song must be slow ballads with no kick. The piano that plays along here is pleasant for a minute and Viki raises the chorus, before returning back to plodding along. Dressed in white she has a pleasant enough voice, but it is forgotten as soon as it's over.
Chase – Dust In the Wind
Chase's song starts a bit like a song from The Lion King. He's all dressed in black while a young dancer flies all around him. Blue laser lights protrude from the stage and Chase joins in with the dancer. The song never really tasks off despite a good vocal performance. The backing singers lift the song at the end.
The Couple – Vége Van
The problem here is we already have a blackbird in the final, and this song isn't as captivating. The male member of the couple plays well on his piano. The gorgeous blonde female wails along to the song in her pink dress. The song never raises its level making it a good one to send you to sleep at night.
Spoon 21 – Deák  
The Limahl from Kajagooogoo look-a-like, leads this four piece band, with what is probably tonight's most modern song. However it really isn't all that good. It's seems that the group made the effort to sound relevant, but the song has no redeeming features. It was as if they were the warm up act.
Gigi Radics – See It Through
A very pretty girl , all hair and pearly white teeth, is landed with this run of the mill ballad. In a lace white wedding type dress, Gigi doesn't move around much and its hard to see how this is going to stand out. It is a power ballad which the judges seemed to love.
Dávid Henderson – White Shadows
This is a good modern pop song. David is another from the black leather brigade. Accompanied by a guitarist, who changes to the electric piano during the chorus. The mix of ballad and techno may not go so well together.
Joci Pápai – Origo
A bit ethic here, sort of like Boaz from Israel. A violin kicks in and Papai grabs some hand bongos. If you didn't know you wouldn't think he is singing in Hungarian. A rap is thrown in for good measure and a violinist strums along. Due to being a little different from the other acts, this should have a good chance of reaching the final. Don't get too excited though by it's high score -it is hardly a classic.
Gina Kanizsa – Fall Like Rain 
Starting with rain on the stage, wherever that idea came from, this is nowhere near as instant as Ruth Lorenzo. A piano tinkles away, three backing singers and a dancer in a cape. she sounds a bit like Sade. This is another song the judges loved. Another anguished ballad.
The Show
Tonight's show started out with some Charleston dancing as the acts were introduced. The hosts tonight were again Csilla Tatár and Levente Harsányi. The judges, for all heats are singers Caramel, Zséda, Károly Frenreisz and Miklós Both. All of them gave their critique after every song. Each act was introduced , usually by a huge hit in the British charts. Every now and again the acts were interviewed in a green room.
The top three acts automatically went through to the final. The fourth act was chosen by a fresh televote. While we waited the results, Szilvia Péter Szabó, from NOX treated us to a catchy little dance number, Az éj után. The choreography was stolen from Helena's You're My Number One.
The Results
Caramel
Zséda
Károly
Miklós
Televote
Total
 
Soulwave
 8
 8
7
7
 7
37
 To

The Final By Televote

 Viki Singh
 8
 7
9
 8
 6
38
 
 Chase
 8
 8
 8
 7
 6
37
 
 The Couple
 8
 7
 7
 9
 5
36
 
 Spoon 21
 8
 8
 8
 7
 6
37
 
 Gigi Radics
 9
 9
 9
8 
 7
42
To The Final
 Dávid Henderson
 8
 7
 8
 8
 6
37
 
 Joci Pápai
 10
 10
9 
 9
 7
45 
To The Final
 Gina Kanizsa
10 
10
10
10
5
45
To The Final
Hungary In The Eurovision Song Contest
This will be Hungary's 15th appearance at Eurovision. Hungary got of to a great start in 1994 with Frederika and Kinek mondjam el vétkeimet?. The song received 12 points from three of the first four juries, and appeared to be a shoo in to win. Ultimately the song finished in fourth place.
A series of poor results forced the country to withdraw between 1999-2004. On their return Nox with Forogj, világ! sounded promising, but after drawing the dreaded first slot, ended up coming 12th. The Hungarians were out again next year.
In 2007 Magdi Rúzsa returned Hungary to the top 10, finishing 9th with Unsubstantial Blues. The real shocker came in 2011 when fan favourite Kati Wolf and What About My Dreams placed 22nd.
ByeAlex and András Kállay-Saunders returned the country to the top 10 in 2013 and 2014. Last year Freddie placed 19th with Pioneer.
Below enjoy the video of one of the finalists, Gigi Radics and See It Through.