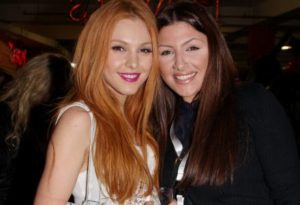 Helena Paparizou and Tamta in a collaboration. That is a dream coming true for many Greek fans, and now it happens. On Helena's new album is a duet of an Italian Sanremo entry. The Greek cover is called Tora I Pote (Now or Never).
Helena Paparizou is the only winner for Greece at the Eurovision Song Contest, while Tamta is a very popular artist that almost every year is speculated as a candidate to represent the country. In 2007, she participated in the Greek national final and in 2015 she missed the deadline to submit an entry, Unloved, which she then released a few days later.
The two popular ladies are joining forces for the first time in a duet which will be released in the next few days on Helena's new digital album. The song is a cover of Dolcenera's entry in Sanremo 2016, Ora O Mai Piu. Stavros Stavrou wrote the Greek lyrics to the Greek version Tora I Pote. The album is expected to be released in the following days.
While waiting for the Greek version, you can watch Dolcenera's Ora O Mai Piu in the video below: