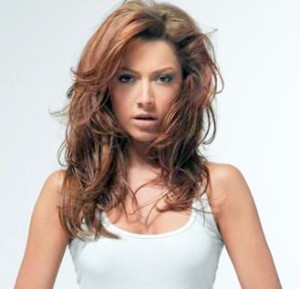 Turkish pop star Hadise, whose heartbeats had gone Düm Tek Tek in Moscow, has released her new video clip called Yaz Günü, which means 'Summer Day' in her native language. It is the third video clip from her latest album Tavsiye (Advice). With that video, she became the artist who opened the summer season in Turkey.
Time goes fast. 5 years and 14 days have passed since she took to the stage in Moscow with her Eurovision hit Düm Tek Tek. And 6 months have passed since she released her latest video clip Prenses. And now, after a half year rest, it looks like she decided to move on with a new single, maybe the first summer singer among the whole ex-eurovision participants.
The video takes place in the Dominican Republic, in which the producer of The Voice Of Turkey (Hadise acts as a coach in the talent show), Acun Ilıcalı, shoots the Turkish edition of Survivor as well. During the whole video, she stays close to a model named Andre Costa and they try to look warm to the audience. They both look so hot in the video. Despite being hot, the theme of the video mostly brings to mind the video of Summer Paradise from Simple Plan. Unfortunately, Hadise's eyebrows look a bit dark and thick in the video – not necessarily a make-up feature that is to everyone's taste.
Despite the frisky rhythms of Düm Tek Tek and Prenses, Yaz Günü is quite slow and calms you while you are listening to it. 'In a summer day, oh, that sun burns and fries you / Oh, that crazy, taste of love steals my heart / It falls into the night under the light of the sea sparkle / Catch me, hug me and don't let me' is the translation of the chorus.
Turkish pop star Hadise was born and raised in Belgium. She became popular in Turkey with her first single, Stir Me Up in 2005. This song became a summer hit in Turkey alongside the 50th winner of Eurovision, My Number One, in 2005. Until 2008, she hadn't been active enough in the music market. In the end of 2008, Hadise was chosen by TRT to represent Turkey in the Eurovision Song Contest 2009. Later that period, she announced that she also got an offer from Belgium Television to represent them in the same year, but she had chosen Turkey. In Moscow, she came 4th with 177 points. After Eurovision, she became more popular in Turkey and much more active in the music market.
You can watch the video for Yaz Günü below: