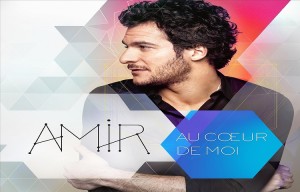 Amir, one of the favourites to win this year's Eurovision Song Contest has just released his debut full length album titled Au Coeur De Moi, featuring twelve original songs, and of course his Eurovision entry with which he will represent France in the final on the 14th of May.
The French-Israeli singer Amir representing France at the 2016 Eurovision Song Contest has today released his first album. The album naturally opens with his Eurovision entry, J'ai cherché and is released in digital and CD format.
This is the debut album from Amir. Amir told us that he wants to expose himself to the public in the most sincere way. He describes the songs as very personal, as reflected by the album's title, Au Coeur De Moi, which translates into English as "Within My Heart".
We invite you to test your knowledge about Amir in the quiz below. If you do well, do not forget to brag about the result.
Which job did Amir have until he went all in for music? Check if you are right in this quiz about him.
Enjoy Amir's recent performance of his 2016 Eurovision entry from Eurovision In Concert live in Amsterdam. We wish Amir all the best for Stockholm, and hope his album is a great success.
The full track list for the album is:
J'ai Cherché
On Dirait
Au Cœur De Moi
Ma Vie, Ma Ville, Mon Monde
A Ta Manière
I Know
Très Haut
Je Reviendrai
Lost
Oasis
Broken Heart (feat. ABI)
Il Est Temps Qu'on M'aime