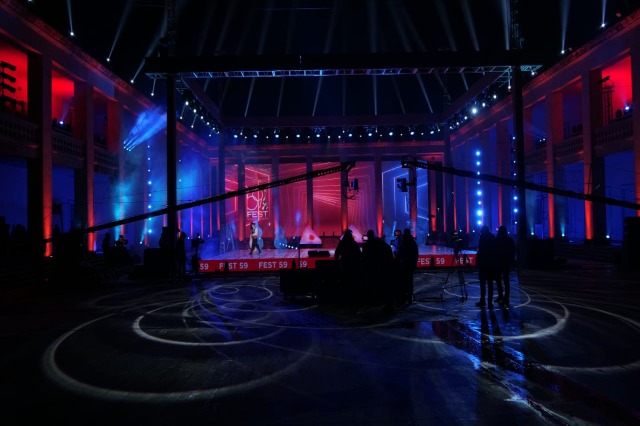 Tonight, the Festivali i Këngës began, where the winner will become Albania's Eurovision Song Contest 2021 entry.
25 acts performed on an outdoor stage, presenting their vision of how they would like to present their song in Rotterdam in May, should they win.
This year sees the opening of the 59th edition of the contest, which was held at the Sheshi Italia open air venue.
The Show
The show was hosted by Blendi Salaj and Jonida Vokshi. Blendi is a broadcaster and journalist, occasionally reporting for CNN. Jonida is an actress, who starred in Albanian box office hit, Shtate Dite. She entered the stage riding a white horse.
Tonight the show was pre-recorded due to the COVID-19 pandemic, also the reason the show was staged outside.
The show opened with a black and white video trepsing around Tirana. It was followed by a chorale ensemble, singing around flames, in what seemed like a windy night in Albania. The female lead was Albania's version of the Statue Of Liberty.
Then, so began the contest. All the acts performed on what looked like a reasonably large stage. The stage lighting for each artist was a mix of light blue and red. Several acts made subtle references to the virus, with the wearing of masks when not singing. Canned applause was used to give the show a live feel. All the performers were solo acts, no groups or duos took part, although there were some dance routines featured throughout the show at intermittent intervals.
There were a mix of songs from dance, to anguish to sombre and big ballads. You can see the list of artists and song titles at the end of the article, and listen to the songs by clicking on the link. They will all be back tomorrow with an acoustic version of their song, although who knows how that will sound, as many seemed almost unplugged already. The finalists will be selected after that, with the final taking place on Wednesday December 23, 2020. Sixteen acts are expected to be chosen for the Grand Final,
Albania In The Eurovision Song Contest
Albania made their debut in the Eurovision Song Contest in 2004, finishing with a good 7th place with Anjeza Shahini and The Image Of You.
They did not receive a better result until 2012 when Rona Nishliu came 5th with the song Suus. This remains Albania's best result to date.
Albania have had mixed results at Eurovision, with 7 of their 16 entries failing to qualify to the finals.
At their last appearance in 2019, Jonida Maliqi, with the song, Ktheju Tokes, became the 4th Albanian entry to finish in 17th place.
Arilena Ara should have been their representative in 2020 with Fall From The Sky.
The singers and songs
Below is a list of the 25 singers and songs which are taking part in the Festival. You can listen to them all on Albania's official FIK YouTube site.
Agim Poshka – Vendi im
Anxhela Peristeri – Karma
Devis Xherahu – Peng
Enxhi Nasufi – Njësoj
Era Rusi – Zjarri im
Erikson Lloshi – Jo
Evi Reçi – Tjerr
Fatos Shabani – Ty
Festina Mejzini – Kush je ti dashuri
Florent Abrashi – Vajzë
Franc Koruni – E morën botën
Giliola Haveriku – E lirë
Gjergj Kaçinari – Më jep jetë
Inis Neziri – Pendesë
Kamela Islamaj – Kujtimet s'kanë formë
Kastro Zizo – Vallja e jetes
Klinti Çollaku – Do t'ja dal
Mirud – Nëse vdes
Orgesa Zaimi – Valixhja e kujtimeve
Rosela Gjylbegu – Vashëzo
Sardi Strugaj – Kam me t'ba me kajt
Stefan Marena – Meteor
Viktor Tahiraj – Nënë
Wendi Mancaku – Si ajo
Xhesika Polo – Më mbron