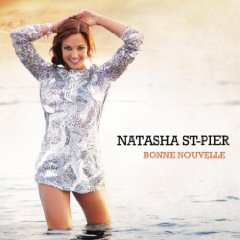 Natasha St. Pier has, like her counterparts Céline Dion and Lara Fabian a place in the elite club of chanteuses representing another country at the Eurovision Song Contest. Her entry Je N'ai Que Mon Âme opened many doors for her to the French speaking market and Francophile fans can rejoice, as she returns with a brand new album Bonne Nouvelle.
Canadian chanteuse Natasha St. Pier has released no fewer than seven studio albums during her career with Bonne Nouvelle (Good News) being her latest offering. Yet to make the same leap as both Fabian and Dior in crossing over solely from the French market to gaining worldwide appeal, St. Pier continues to add to her list of French language material, apparently unabashed and completely au fait with the lack of international recognition so far. Despite an overwhelming amount of French language material among her repertoire, this should not perturb non French speakers, as the versatile artist has a lot to offer music fans in general.
her seventh album gets off to a gentle start with the subtle title track, Bonne Nouvelle with its music box opening that quickly morphs into an uptempo acoustic number with St. Pier singing the praises of being alive and enjoying the here and now, despite life's little romantic obstacles. A cracking tune paired with the infuriatingly catchy humming chorus makes it easy to see why this chosen as the album opener. Things continue in a similar tempo and vein with the next track on the album, Ma Meilleure Idée (My Best Idea) with it's organic sound, luscious layered vocals and words with St. Pier waxing lyrical about her destiny and building a future with her love.
The third track sees St. Pier go for an altogether quirkier sound, with a heavy reggae feel and a very well built melody on Par Coeur (By Heart) with a chorus sung in the style of a classroom excercise "un pour l'amour, deux pour l'amitié, trois pour le jour", etc. The summery vibe continues on Même Pas Peur (Not Afraid), another reggae infused song with its lilting tune and lyrics about not being afraid anymore now that she has found someone to chase away her anguish and kiss her scars better. All in all a delectable little morsel of a song.
On La Princesse (The Princess) we're treated to a polished piano led ballad, with breathy vocals and a much quieter sound, almost fragile even. The song is built up rather like a modern day fairytale, telling of the struggle of the everyday woman caught between the image of herself as a princess the one minute and a woman of ill repute the next. A nice contrast is made as we progress onto the next song, J'aime Ça (I Love It), which has a bassline not unlike Madonna's Don't Tell Me. Combined with a simple yet effective organ introduction, the song is a fair enough effort, but not quite on par with previous tracks, failing to make as big an impression. On Elle Veut Bien Croir (She So Wants To Believe), St. Pier gets back on the saddle and sings of believing in love, despite a love coming to an end. Musically this is one of her more competent efforts, an uptempo ballad tinged with sadness and melancholy yet at the same time with an uplifting melody.
On Une Petite Fille (A Little Girl) deals with making a woman happy, not in the traditional way of jewellery but with the gift of a little daughter and more time together. The lyrics are original and well written but again the song is somewhat let down by an altogether anonymous and unmemorable tune with a chorus that doesn't quite go the whole hog. With Vous Les Hommes (All You Men), St. Pier sings a rock ballad, tinged with more than just an hint of blues and country when singing of being rejected and dissappointed by her man. A rougher sound makes for a welcome change of style and scenery on Bonne Nouvelle.

Pour Ne Jamais T'oublier (So As Never To Forget You) is next up, yet another reggae influenced number, which isn't as sugary as some of the previous ballads and works very well on here. St. Pier sings of her youth, of memories, of things she did when younger and of a love that was lost, something we all can relate to, all wrapped up in a very no nonsense, radio friendly tune. Strumming guitars lead us onto the track Juste Comme Ça (Just Like That), a duo with Michael Miro on which both voices are perfectly matched – her sweet, pure sounding vocals function well against Miro's much darker sound with a handsome tune and lyrics of words telling of the pressures that modern day life such as text messaging and Facebook have on romance.
The penultimate track Dans le Mercure (On the Scale) is a happy little outing seeing Ms St. Pier come over all coquette and playful as she sings of lifes ups and downs, the adventure life can take you on and having a positive outlook on life taking us neatly onto the the final track of the album, another duet and a very emotional one at that, called La Route (The Journey) together with Jonathan Roy. Those in search of drama and sensuality are handsomely rewarded as the couple unite to sing of taking a journey together, following your loved one step by step and being there for one another. A suitable close for a polished and accomplished album.
If you're looking for power ballads in the mould of Céline Dion at her most pompous, you won't find them here and may well be dissappointed. If however you take the time to give the album a proper listening, you will in fact be rewarded with an extremely positive suprise, with less is more clearly being the rule of thumb. Bonne Nouvelle does have its flaws with a lack of variety in places, but it more than makes up for these in its simplicity, its subtelty and its charm. All in all a solid and very well crafted seventh album from one of the most underestimated and lesser appreciated stars to emerge from the Eurovision Song Contest in recent years.
The track listing on Bonne Nouvelle:
1.  Bonne Nouvelle (Good News)
2.  Ma Meilleure idée (My Best Idea)
3.  Par Coeur (By Heart)
4.  Même Pas Peur (Not Afraid)
5.  La Princesse (The Princess)
6.  J'Aime Ça (I Love It)
7.  Elle Veut Bien Croire (She So Wants To Believe)
8.  Une Petite Fille (A Little Girl)
9.  Vous Les Hommes (All You Men)
10. Pour Ne Jamais T'Oublier (So As Never To Forget You)
11. Juste Comme Ça (duo with Michael Miro) (Just Like That)
12. Dans Le Mercure (On The Scale)
13. La Route (duo with Jonathan Roy) (The Journey)
Links