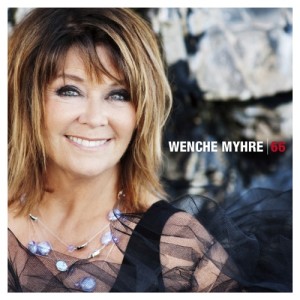 La Meg Være Ung, Wenche Myhre once sang way back in 1964 aged just seventeen. Little did she know then just how prophetic her song would turn out to be. Turning 66 this week, she shows no sign of slowing down, with the recent release of both a biography and a CD with the same name. The megastar has just announced that she is to embark on a tour, too!
With a career spanning almost sixty years, there's hardly a thing that Norwegian grand dame Wenche Myhre hasn't done. Equally adored in Germany as in her native Norway, Die Wencke as she is affectionately known has had her own TV shows, has been inducted into the Rockheim Hall Of Fame for her achievements as well as featuring on a postage stamp, back in 2011. After so many years in the business, the star found surprisingly use for her survival instinct after having developed and fought off cancer.
You'd have thought that with her 66th birthday coming up this week, the remarkably fresh faced singer would soon opt for early retirement, but in true Wenche style, she shows no sign of relenting or even slowing down. On the contrary, she has just announced a tour, with dates nationwide! Her recently released album 66 (released on the 18th of January) features a specially composed song by an other Norwegian veteran, Åge Aleksandersen, who composed the song Prinsessesmil (Princess Smile) for the star, which touched her enormously. The album also features her entry from the Norwegian national final in 1992, Du Skal Få Din Dag I Morgen (Your Day Will Come Tomorrow) as well as her 2009 entry Alt Har En Mening Nå (Everything Makes Sense Now). The tour begins the day before her birthday and will continue until the end of March, rounding off in Grieghallen, Bergen, venue for the 1986 Eurovision Song Contest. The tour dates are as follows:
14. – 17. February: Drammens Teater, Drammen
20. February: Olavshallen, Trondheim
22. February: Kilden Teater og Konserthus, Kristiansand
23. February: Stavanger Konserthus
01. March: Bølgen Kulturhus, Larvik
02. March: Rica Parken Hotel, Ålesund
06. March: Ibsenhuset, Skien
07. March: Arendal Kulturhus
09. March: Oslo Konserthus
20. March: Ullensaker Kulturhus, Jessheim
21. March: Festiviteten Konserthus, Haugesund
23. March: Grieghallen, Bergen
Tickets can be purchased through the Billettservice website.
When recently asked the secret to her success and to her unfaltering popularity, the humble artist replied: "The love and joy of having such a fantastic career. Joy and curiosity, those are the things that drive me. The joy is still there, which is why I'd much rather feel the passion than draw my pension!" Eurovisionary sends Wenche the warmest birthday wishes when she celebrates this Thursday; hopefully she'll keep us entertained for many years to come!
You might also like to read: