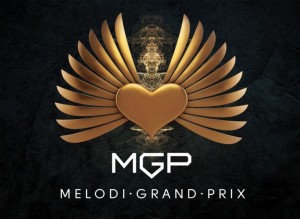 The Norwegian selection Melodi Grand Prix has normally been a huge hit with TV viewers, giving NRK viewing figures that most channels can only dream of. This year's edition however got off to a catastrophic start, but finally managed to turn defeat into victory at the weekend.
Melodi Grand Prix 2013 winner Margaret Berger wasn't the only one who finally had reason to celebrate on Saturday night. Broadcaster NRK has repeatedly lost the ratings war the last few Saturdays when the three qualifying heats of the Norwegian selection have been shown. What normally has proven to be a massive success for NRK has failed to deliver this year for a number of reasons.
Firstly, the most obvious factor was that a music programme on rival channel TV2, Hver Gang Vi Møtes, has steadily built up quite a following each Saturday evening, proving impossible for NRK to beat. Each qualifying heat has in previous years managed to attract on average just under a million viewers,but this year barely making 600,000 with the rival programme increasing its market share on each week by around 200,000 viewers. Another factor that also undoubtedly influenced viewing figures, was the decision by NRK to change their approach to the contest. In earlier years, all artists have been revealed at a joint press conference months before the selection got underway, giving the event time to build momentum and create interest around the artists involved. This year however, NRK decided that to be completely just, the participants in each heat would be announced in a show broadcast each Wednesday prior to the three heats.
Another factor that could well have made an impact on this year's viewing figures is, dare it be said, that the general public has begun to lose interest in the Melodi Grand Prix concept, possibly as a result of numerous semi finals but equally as a result of consistently disappointing results for the last three years. The large downturn in figures was played down by NRK, who claimed to be extremely satisfied with their share of the viewing market, but media in general were describing the decrease as dramatic.
Following Saturday's final however, there is some light at the end of the tunnel for NRK. Even though 340,000 fewer tuned in to this year's final from Oslo Spektrum (1,3 million viewers watched Tooji carry off the title with Stay last year), an average of 975,000 viewers watched Margaret Berger storm to victory with her entry I Feed You My Love, giving NRK a 52% market share and finally beating rival show Hver Gang Vi Møtes. Just over a million Norwegians chose to follow the voting, giving NRK every reason to pop the champagne corks. Stian Malme, project supervisor for Melodi Grand Prix, has even further reason to celebrate, with three of Saturday's artists occupying top five positions on the iTunes charts – Margaret Berger and her winning song are sitting pretty at number one, with runner up Adelén and fiery Bombo at number two and the third placed I Love You Te Quiero by Sirkus Eliassen making number four on the charts.
You might also like to read: