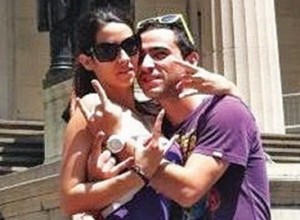 The lead singer of Koza Mostra, the Greek entrants in Malmo, is getting married to long-term girlfriend Charoula on 27th October. According to their wedding announcement in Thessaloniki newspaper Makedonia, their wedding will take place in the city's church of St. Sophia.
It appears that theirs will not be a typical wedding reception. Instead, Elias and his friends will mark the occasion with a rock concert at Thessaloniki club Block 33. Agathon Iakovidis, the rebetiko singer who joined the group on the Eurovision stage last May, will also be performing. One would expect that 2013 Greek entry Alcohol is Free will be one of the tunes played during this unusual wedding concert.
It is reported that Charoula will be wearing a beige wedding dress; Elias will be ditching his usual Koza Mostra kilt for a custom-made suit by tailor Merkos Manolopoulos.
The couple met while Charoula was working as a waitress at a venue where Koza Mostra regularly performed. It wasn't long before Elias and Charoula, who at the time was a psychology student, became an item. Elias has frequently mentioned how Charoula supported him during difficult times in the past. The couple survived a serious car accident in July, but are now said to be happy and all excited about their wedding preparations.
In the video below, you can have another look at Elias, his bandmates and Agathon Iakovidis performing Alcohol is Free at the 2013 Eurovision Song Contest. This is our 3D version, which we recommend if you have the suitable equipment. Otherwise it can easily be turned off for regular 2D viewing.  
You may also want to read:
Elias Kozas survives car crash
Helena Paparizou to perform in Thessaloniki's MAD North Stage Festival
Margaret Berger releases new single Human Race