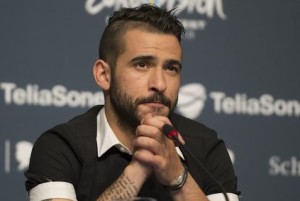 The lead singer of Koza Mostra, the Greek 2013 Eurovision entrants, was involved in a serious car accident in the early hours of last Sunday. Fortunately, all occupants came out of the accident without life threatening injuries.
The incident occurred in the early morning of Sunday 18th July in the North of Greece. Elias along with his girlfriend and two colleagues were travelling back from a Koza Mostra gig, part of the group's summer tour around the country. The car was driven by the group's video director. Trying to avoid a wild animal on the road, the car struck another vehicle and then the central reservation before rolling five times and coming to rest on its side.
All passengers, including Elias and his long-term girlfriend Hara, were asleep at the time of the accident. "I was woken up by the impact (…) It was scary! I am (only) covered in bruises, but Hara has broken three ribs and suffered small external injuries by the broken glass" the singer recollected. Due to her injuries, Elias' girlfriend had to be hospitalized in the city of Xanthi; he has been at her bedside ever since. Talking to the Greek media, Kozas felt the need to highlight the importance of wearing seat-belts: "Things would have been much worse (i.e. otherwise) (…) We are alive, that's the important thing."
You might also like to read: