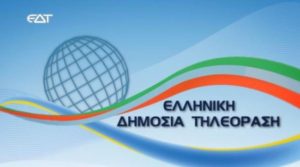 Greek participation in the 2014 Eurovision Song Contest has been hanging in the air since the Greek government's decision to close down ERT, the country's public broadcaster, last month. Today, a temporary TV channel, intended as the predecessor of ERT's proper replacement, went on air.
The full name of the new broadcaster is Elliniki Dimosia Tileorasi (Greek Public Television), abbreviated to EDT. Talking to the Greek media, Junior Minister of Public Television Pantelis Kapsis described the new channel as 'transitional' until the ERT's proper replacement broadcaster goes on air. Mr. Kapsis added that, within a matter of hours time EDT would be broadcasting films and documentaries rather than live programming.
It transpired that, EDT will be broadcasting from privately owned studios. This comes as a result of the state television studios in Athens being occupied by former employees of the original Greek public broadcaster, ERT, who refuse to leave and are still broadcasting online from the premises. So, for the time being, an official and an unofficial public broadcaster will be on air at the same time!
An EBU delegation is expected to visit Athens on 17th July to discuss these developments with, among others, Junior Minister Pantelis Kapsis.
You might also like to read: