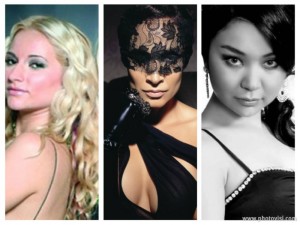 The 2013 Suncane Skale festival will take place this weekend in Herzeg Novi in Montenegro. Many ex Eurovision acts have performed in the festival in the past and future stars also appear. This year we have Pamela Ramljak, who was a member of Feminnem and Ivana Banfić, who has participated in the Croatian Dora contest.
Pamela Ramljak was a member of Feminnem, who twice took to the Eurovision stage for Bosnia-Herzegovina in 2005 with Call Me and Croatia in 2010 with Lako Je Sve.  Pamela's song at the Suncane Skale is called Ovaj Put.  
Ivana Banfić is a massive star in Croatia and the Balkan countries.  She has participated in the Dora in 2006 with Kad se sklope kazaljke and 2008 with Mir.  She will perform Izgužvana svila in Herzeg Novi this weekend.
Past winners at Suncane Skale have included Goran Koran (ESC 2000 Croatia) in 2005 and Kaliopi (ESC 2012 FYR Macedonia) in 2009. 
The full line up for 2013 is –
1.Bojan Jambrošić
2.Deana Dasović
3.Pero Stefanović
4.Glenys Vargas & Kevin Ettienne
5.Pamela Ramljak
6.Igor Cukrov
7.Ivana Martinović
8.Telman
9.Pogrešila Roda
10.Denis
11.Ellyland
12.Kristijan Rahimovski
13.Saška Janković
14.Jelena Kažanegra
15.Joce Panov
16.April
17.Mave O'Rick
18.Ivana Banfić
19.Marko Prentić
20.Kemal Monteno & Teška Industrija
21.Dejan Seferović
22.Danijel Pavlović
23.Žare Berber
Many of the above acts will most likely appear in national selections and could well take to the Eurovision stage in the future. 
One act from the 2012 edition of Suncane Skale was Tahmina Niyazova from Tajikistan. Her song was called Boom Boom Boom.  She worked then with Seyran Ismayilkhanov from Azerbaijan on the song.  He was in the 2010 and 2011 Azeri national selections.  Her promotional video was also recorded in Montenegro.  Tahmina has said she will submit a song for Russia for Eurovision 2014.  She would love to represent her country, Tajikistan, if they have the opportunity to enter the Eurovision family in the future, too. In the meantime Tahmina has released a brand new single.  It is called Fairytale About Love.  The music is by Ahmad Bakaev and lyrics by Danijel Stojadinovic. 
You can see the video for Tahmina's 2012 Suncale Skale song Boom Boom Boom below and listen to all this year's entries at the official Suncane Skale website.

You may also like to read: