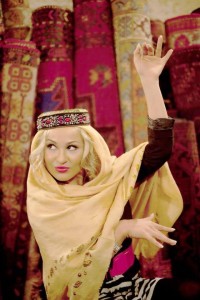 Ellyland took part in the 2010 Azerbaijan Eurovision national selection.  She was known then as Elvira "Elli" Michieva.  Now Ellyland has released a new single called Colorized and she will perform her new song at the 2013 Suncane Skale festival in Montenegro on 29 June.
Ellyland was a semi-finalist at the 2010 Azerbaijan national selection with the song Up, Up.  The song was composed by Isa Melikov, Paulina Melikova and Elvira Michieva (Ellyland) herself.  Isa Melikov produces songs for Nigar Jamal and Eldar Gasimov.
Ellyland's new song, Colorized, has been released in Germany and she has made an official promotional video to accompany the song.  The song has a happy summer dance vibe with some rap elements.
She will perform Colorized at the forthcoming Suncane Skale festival to be held in Montenegro on 29 June.  The festival is one of the most popular music contests in Europe and attacts artists not just from the Balkan countries but around Europe and Asia.
You can see the video for Colorized below and read more about her at her official website.
You may also like to read –