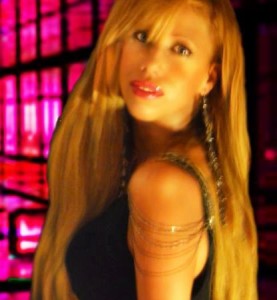 Glenys Varga was on the Eurovision stage in 2010 as a backing vocalist for Albania with Juliana Pasha and the song, It's All About You.  Now Glenys together with UK rapper, Kevin Ettienne, will compete at the 2013 Suncane Skale festival in Montenegro.
Glenys Varga is a talented singer/songwriter from New York in the USA and currently resides in Rome, Italy.  She enjoyed every moment of her experience at the 2010 Eurovision Song Contest in Oslo with Albania, and this made her determined to return to the Eurovision stage.
In 2010 Glenys teamed up with a rapper from London, Kevin Ettienne.  They started to plan their next move towards Eurovision.  Glenys and Kevin were selected for the 2011 Austrian Eurovision pre-selection with the song Power: Positive.  It was composed with Isa Melikov, who was the producer of Ell & Nikki for Azerbaijan at the 2011 Eurovision Song Contest, with Running Scared.
Glenys and Kevin competed in the 2012 edition of the Suncane Skale contest in Montenegro with Love Me/Let Me Go and they finished in fourth place.
Now they return to the beautiful resort of Herzeg Novi in Montenegro for the 2013 Suncane Skale festival.  The song this year is called Dream!  You can hear the song below.
Glenys hopes to return to the Eurovision stage as soon as possible and would be happy to represent any country as she would proudly 'fly the flag and respect the culture and traditions' of whoever she represented.
You can hear more about Glenys at her You Tube page and you can read more about her and much more at her MySpace and Reverbnation pages.

You may also like to read: