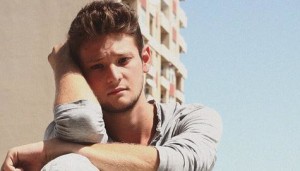 One half of the Azerbaijani winning duo from 2011, Eldar, has recently released a solo single titled Heartbreaker, which tells the story about how you get on with your life despite the broken heart. The song has sound production made by a Danish national finalist, who also worked together with Nikki, his Eurovision partner.
Two years ago it came as a little surprise when the Azerbaijani duo Ell & Nikki took home the victory trophy with the song Running Scared. Since that the successful duo has been working on each their solo projects.
Eldar Gasimov's (Ell) latest has been given the title Heartbreaker. In a press releases he states that the song isn't about the broken heart itself, but what you do afterwards to heal it: "Recently, I wanted to sing a song about heartbreak. But that's not the heart that is suffering, this song is not about the sleepless nights and the tears of unrequited love … I think many have had that feeling, when the soul is wounded and heart's falling to pieces, and after many days of solitude, reflection, and self-consolation you want to shout: Be happy! And let your life be great! You deserve it and I am happy to know that".
Heartbreaker is written by the Azerbaijani singer and songwriter Isa Melikov. The lyrics are written by Grace James and Eldar himself. Sound production is made by Danish songwriter Boe Larsen. The latter is an interesting name as he twice has participated in the Danish national final, Dansk Melodi Grand Prix. First in 2007 where he co-wrote Fly sung by Annika Askman and again in 2012 where Karen Viuff sang Universe, which he also co-wrote.
Back then Nikki, Eldar's Eurovision partner, was present at the Danish final – and she fell in love with that song, Universe. Afterwards she recorded her own version of it, and Boe Larsen was hired to write several songs for her album.
Below you can see a video where Eldar Gasimov sings his new single Heartbreaker. 
You might also want to read: