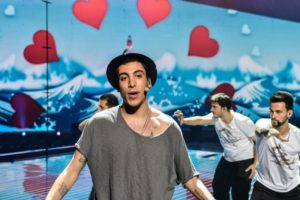 The last Turkish representative, Can Bonomo, decided to appear in a tv sit-com right before his summer holiday. The Turkish sit-com Yüksek Giriş will be premmierred on July 28th on ATV with the starting time 21.45 CET.
After having the honour of being Turkey's latest representative at the Eurovision Song Contest arena last year in Baku, things went well for Can Bonomo. He released a brand new album named Aşktan ve Gariplikten at the end of 2012 and released three videoclips releated to this album in the of summer 2013: Ali Baba, Başkan and İyi ki Doğdun.
By the time the summer changes in television schedule had already begun, Can was cast in a summer sit-com which would start in July and it was named Yüksek Giriş. Recently, the first trailer of sitcom was released on a local broadcaster ATV starring Can Bonomo. As he acted in another sitcom "+18" in past, it was thought he would be listed in the main cast but it was later revealed that he will play only in the first edition.
The sit-com Yüksek Giriş which means High Entrance, will be about the life of two frenetic school guys who fall in love with the new neighbours. The main cast will be the artists and actresses Umut Kurt, Bora Akkaş, Sera Tokdemir, Bekir Çiçekdemir, Tuna Orhan and Suna Keskin. There will be a different musician guest star each week.
You might also want to read:

Can Bonomo represented Turkey at the 2012 Eurovision song contest in Baku with the song Love Me Back where he gained 7th. Below you can watch our 3D video of Can performing at 2012 Eurovision Song Contest rehearsal.
As always, we strongly recommend watching this video in 3D, as it was
recorded, to enjoy it to its fullest, but if you do not have a pair of
suitable glasses this can easily be turned off in the player below for
regular 2D watching.