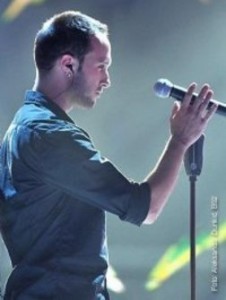 Bosnia and Herzegovina has announced it's for this year's contest in Oslo. It is Vukasin Brajic, a young singer, who won with song Munja i Grom, (Lighting and Thunder) whose author is Edin Dina Sharan.
Vukasin Brajic was born on February 8th 1984, in Sanski Most, Bosnia. He is a pop-rock singer who participated in the first season of the TV show, Fame Academy, and took second place. The show was broadcasted in five countries: Serbia, Bosnia, Montenegro, Croatia and Macedonia.
When he was young, he asked his parents to send him to music school, but that was during the war, when his family decided to move to Serbia in1994. He moved to the city of Cacak in a central region of Serbia and finished two elementary schools. Even though his parents couldn't afford his musical education, he was learning by himself with lot of books, listening to music and learning from the internet. That is how he acquired his keyboard and guitar skills. Then he told to his family "One day, this guitar will feed all of you." He also sang in a choir and danced in a dance studio. Then he started in the Teacher Education Academy in Negotin, where he fulfilled his need for singing, dancing and acting.
His music career started with rock-metal band, Affect and Lucky Luke. After a few years, the show Fame Academy accepted him and he spent months working on his voice and talent. His was singing songs mainly by AC/DC, Robbie Williams, One Republic, Lenny Kravitz, The Beatles, Metalica, Queen, U2, Guns n Roses and from many other ex Yugoslavian bands. 
In 2009, he performed in Beovizija, the Serbian contest for the Eurovision Song Contest. He took a part with OT band, with the song Blagoslov za kraj, (Blessing for the End), and took 2nd place. The Serbian audience wasn't happy, because they were supporting these four guys and wanted them to win.
The experts from the committee for the selection for Bosnia and Herzegovina met today under the rules and criteria prescribed by the Ordinance BH Eurosong 2010, and s Vukasin's song won the day. Dreams come true for Vukasin Brajic and with song Munja i Grom, he will represent Bosnia and Herzegovina in the 55th Eurovision Song Contest 2010 in Oslo, Norway.
 
Below you can check one of songs that he sang on show Fame Academy, More Than Words.
Links