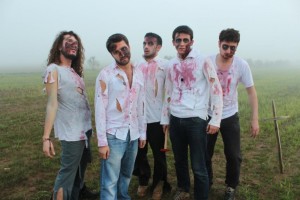 Turkish national broadcaster TRT made a shocking decision in November when they withdrew from the 2013 Eurovision Song Contest. As the contest soon will take place without their country, Turkish fans are however able to enjoy a parody of the San Marino video.
The comedy-sketch group called Muğla FTR, who are a group of students at Sıtkı Koçman University in southwestern province of Turkey, decided to make some sensational music parodies including World hit such as PSY's Gangnam Style. After reaching around a million hit on YouTube, they have successfully continued with their Cinnamon (Tarçın), I Feel Good and – of course – Harlem Shake parodies.
Now the group have launched their Eurovision Song Contest parody on the 2013 San Marino entry Vola (Crisalide). Though they have taken the video into a parody in a sarcastic, funny way, the group received very positive reactions to their video including one from the original performer of the song, Valentina Monetta as she said: "This is wonderful!!! I can not stop laughing… GREAT GUYS!!!! LOVE IT!!!"
Though Turkish national broadcaster TRT have decided to withdrawn from the 2013 Eurovision Song Contest, obviously everyone in Turkey has not lost their love in the Eurovision Song Contest. Hopefully this will fire the national broadcaster to make a return next year.
Below you can watch the Muğla FTR's Vola (Crisalide) parody, you can also take a look at behind the scenes or you may watch Valentina Monetta's official preview video.
You may also want to read: