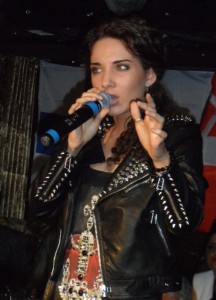 The London Eurovision Party 2013 took place at the Shadow Lounge in Soho district on 21 April.  Eight acts from the 2013 Eurovision Song Contest performed along with some guest performances from Sarbel (ESC Greece 2007) and Nigar Jamal (2011 winner ESC Azerbaijan).
The show was hosted by Nicki French (ESC UK 2000) and Paddy O'Connell.  Nicki kicked off the evening with her own biggest hit song in the UK, Total Eclipse Of The Heart, which of course was a cover of Bonnie Tyler's biggest hit.
First guest was John Allison, who was part of 1961 United Kingdom Eurovison representatives – The Allisons.  John sang a version of the popular song La Bamba and did his rendition of the 1961 Eurovision song – Are You Sure.
Nátalia Kelly was first act from the 2013 Eurovision to perform.  She did three songs.  She started off with Ne partez sans moi (Celine Dion ESC winner Switzerland 1988) and then sang Molitva (Marija Serifovic ESC winner Serbia 2007).  Natália of course finished her set with a rousing version of her entry, Shine.
Next up was Cezar for Romania.  He performed two songs.  Firstly he did his first hit in Romania, Cinema Paradiso. Then he sang 2013 Romanian entry, It's My Life.
Gianluca Bezzina from Malta was next to the stage and he also performed two songs.  I'll Be There was the first song and then his very catchy entry, Tomorrow, where all the audience were joining in.
Krista Siegfrids from Finland made the club 'explode' with Marry Me.  She was wearing a wedding dress and joined by her dancers and encouraging everyone to the 'ding dong'.
After a twenty minute break the Greek 2013 Eurovision act, Koza Mostra, performed three songs – Desire, Lianoxortaoudia and Alcohol Is Free.  All their songs were with an etnic Greek dance feel.  They created a great atmosphere.
To keep the Greek theme going we then had a couple of songs from Sarbel (ESC Greece 2007).  He sang firstly Mi Chica and then his 2007 Eurovision song, Yassou Maria.
It was Latvian act PeR who performed next.  They sang their 2012 Latvian national selection song, Disco Superfly, and their 2013 ESC entry, Here We Go.
Up next was Emmelie de Forest for Denmark.  She performed just one one song.  She did, or course, Only Teardrops, but in an acoustic version. 
Then we had a former Eurovision winner in Nigar Jamal.  She won the contest with Eldar for Azerbaijan in 2011.  Nigar performed three songs.  She performed her solo version of her winning song, Running Scared.  Then she did two more songs from her album – Skin Deep and One With The Music.
Finally, Valentina Monetta from San Marino took to the stage.  She started off with the first live performance of her 2013 ESC entry, Chrysalis.  Then she did a jazz song, Se Parlera, and the evergreen standard, At Last.  She finished off with the Italian sung version of Crisalide, which she will perform in Sweden.
Nicki French ended the evening with her 2000 United Kingdom entry, Don't Play That Song Again. 

You may also like to read: