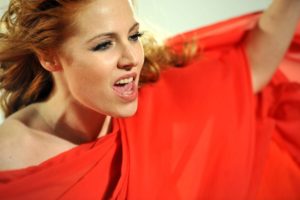 Valentina Monetta is back to represent San Marino for the second successive year.  She returns this time with the highly acclaimed song, Crisalide.  Here Valentina talks to EuroVisionary about taking part at Eurovision again, her new image, her experience in Baku in 2012 and much more.
Congratulations, Valentina, on being selected to represent San Marino again at the Eurovision Song Contest? What were your feelings when you were asked to represent your country again?
I am very happy to have the opportunity to show once again my talent. I am glad that San Marino believes in my talent for another chance to represent my country.
You are receiving very positive feedback from fans and journalists with Crisalide. How does this feel and do you feel better prepared for Eurovision after your experience in 2012?
It is so wonderful and of course I feel stronger but in reality it will become harder. I am ready for the challenge!
Do you feel more comfortable singing in the Italian language this year?
My language lets me perform this song better than in any other language but I am really curious to get your feedback when you will listen to the English version of the song.
Could you tell us something about how you will promote Crisilade before going to Sweden?
I will travel to Eurovison in Concert in Amsterdam and to the Eurovision Party in London.
Are there plans to record Crisilade in any other languages, and are there any remixes planned?
You will soon listen to the English version of the song… maybe a dance or a jazz remix.
Have you heard all the songs from this year's Eurovision? If so, do you have any current favourites?
I love Birds by Anouk for the Netherlands. This is really cool.
Do you plan to release an album in the near future, and if so what styles of music can we expect on it?
I really hope that I will start working on a new album. I really like the 60's and 70's music and even classic music. Right now I am concentrating more on my upcoming performance.
What were your impressions about Baku in 2012?
Baku is a wonderful city. It has very old and historic streets which I really liked. As a Eurovision experience I've learned a lot and helped a lot to improve my career.
Do you keep in touch with any of the acts from the 2012 Eurovision Song Contest?
It is very hard to stay in touch with other artist s but I follow a lot on YouTube.
Your whole appearance is completely different this year compared to last year. You look even more beautiful. How important has it been to make this change?
Everyone told me that I have a new look… I look more mature… I would like to thank them all for the compliment.
Finally, is there a question I have not asked you, that you would like to ask yourself, and if so what would your answer be?
Do you believe in Valentina Monetta? Yes I do very much
Thank you Valentina. Good luck in Sweden.