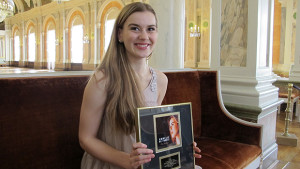 Denmark have high expectations to Emmelie de Forest in this year's Eurovision Song Contest. The fever is raising in the country to unusual heights – and today their own little super star received a gold record for 900.000 streams of her entry.
The bookmakers and the official fan clubs have tipped Emmelie de Forest to win this year's Eurovision Song Contest in Malmö, Sweden next month. When she goes on stage she can be sure to have the entire population behind her. In general Denmark is one of the countries where the interest for the contest is highest, but this year things are getting even hotter. The radio stations play the song a lot more than usual, the media coverage is bigger and the atmosphere is showing that the Danes are preparing for a third victory.
Today Emmelie received a gold record for the fact that her song Only Teardrops has been streamed 900.000 times. It was handed to her as she was in Malmö for more promotion, following some days in Stockholm, where she has family and where Swedish media were very interested in her. Tomorrow she will go to London where she will perform an acoustic version of Only Teardrops at the fan party taking place on Sunday.
On the 6th of May Emmelie's debut album also titled Only Tearops will be released in Denmark. An international release is planned for right after the Eurovision Song Contest.
You might also want to read: